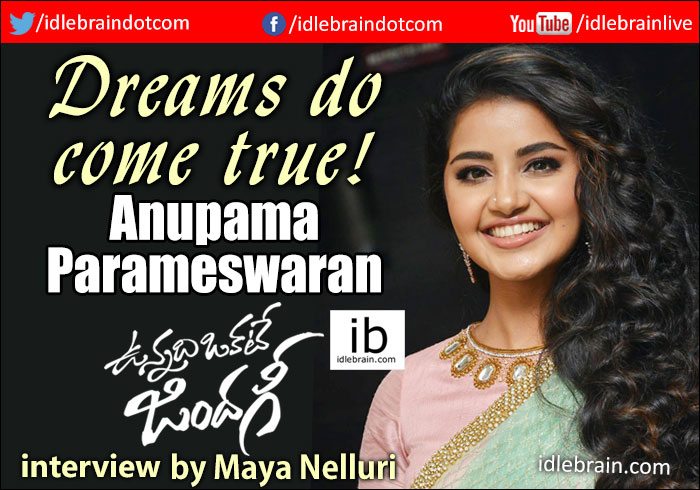 25 October 2017
Hyderabad
Anupama Parameswaran of Premam fame has done wonders in her short career. She is touted as one to watch out for in all of South cinema. Surprisingly, this actress had no connections to the film industry prior to her being chosen for the film via a casting call. In just two years since she has worked in Malayalam, Tamil and Telugu cinema in critically acclaimed roles like Nagavalli in A Aa, Malathi in Kodi, and Nitya in Shatamanam Bhavati. With Vunnadhi Okate Zindagi about to release, we speak to Anupama in this freewheeling chat.
What inspired you to act?
I always liked acting. Whenever I would watch a movie my instinct was to wonder how the actor got into the skin of the character. I'm not sure when it started but it has been going on for as long as I can remember. But, to be honest, I was a middle class girl with no one in the family or friends from a film background so for me it was an impossible aspiration. And I never dreamt of it happening. All of a sudden when a friend of mine saw a casting call for Nivin Pauly's crew, she sent in my photos and I got selected!
Tell us about your family.
When I first got the call for Premam's audition, it was the first time in my life that I had experienced anything to do with films. Before that I had never even been in front of a camera. I got the call from the team when I sat down for lunch with my father, brother and mother. They said they liked the photos that my friend sent of me; and wanted me to come in for an audition. I was dumbstruck because my parents didn't even know that my photos were sent. At that point I didn't even have a Facebook profile. My parents freaked out and scolded me for two days straight because we have never had anything to do with films. But since they were supportive of my wishes, they said that we will go to the audition, meet the people and then decide about going ahead. Once my father met the crew he felt very safe and I ended up being cast and doing the film. Now my mother mostly travels with me for shoots. 
It's only been two years since you debuted and you've already starred in so many hit films. What is your secret?
I think it's just the blessings of my directors and parents. And of course God's grace.
What would you say is your favourite film from those you've acted in?
Premam will always be in my heart. It changed my world so it will remain as the best memory forever. I think it's probably the same with everyone; they have a special connection with their first film. That's how people come to recognise you and it is also how you get more roles.
What about a favourite character that you've played?
Every character is close to me. I feel that all my roles have been so varied. I enjoyed doing all the characters and experimenting. If we look at it from an actor's perspective, my character Maha in Vunnadhi Okate Zindagi has got a lot of space for performance. I think I've done more home work and research for this film compared to any of my other films.
What kind of director do you feel brings out the best in you?
I'm a person who likes perfection so I naturally gravitate towards directors who do not compromise.  I prefer that even if I am having trouble with something that they don't compromise. I think that's the only way to bring out as much as we can from ourselves. I'm always happy when a director gives me something difficult, I enjoy it.
Tell us a bit more about your role Maha in Vunnadhi Okate Zindagi
Kishore Tirumala put together an extremely well written character for me. Actually every one of his characters is important in his movie, be it Ram, Sri Vishnu, Lavanya or me, we all have an impact. When he initially narrated the story to me he was very clear about how I should play this role. Maha is a calm individual with subtle nuances. She is a bit more mature in her thoughts than most of the age; her perception of life is also different from most but the audience can still relate to her.
How was the experience working with your co-stars of Vunnadhi Okate Zindagi?
Ram is super energetic every day, all day! The thing about me is that on set I rarely go into caravan unless I need to change or touch up. I would rather sit on location and watch the shoot. That way I can observe how everyone works and better myself. Ram also doesn't like sitting in the caravan so it was nice to have a co-actor who was similar to me. He is also very professional and always on time to set. Sri Vishnu is a sweet and quite individual. He is a fantastic actor according to me. His subtle expressions made the character of Vasu stand out on screen; and you only see Vasu in the movie, not Sri Vishnu. As for Lavanya, we didn't really have the opportunity to shoot together but I loved her character in the film so much when I saw it. Her character Maggie is so cute and one I could relate to very much. Lavanya and I have been interacting during the promotions and it's been great. It was actually fun to work with everyone in the team. They are all in their twenties and thirties so the whole set felt very youthful.
If not acting, what would you do?
I'm not into office work. I like creative fields where I can explore so I would've been either in media, travel or something else to do with films.
What do you see in your near future?
Every single minute for me is filled with surprises right now. I have no idea where I'm going.  I meet different people all the time and get good opportunities.  I live in today and am always focused on what's happening today.
-Maya Nelluri