Tell us about yourself?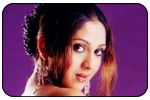 I was born and brought up in Bombay. I completed by B. Com in HR College, Mumbai. I have done the popular ad of Rasna when I was a kid. I got a break in Telugu film industry when YVS Chowdary came to Mumbai to cast a heroine for his film Lahiri Lahiri Lahirilo. He saw my photographs and liked my Rasna baby image. The film Lahiri Lahiri Lahirilo picked up slowly and went on to become a big hit. I got lots of appreciation for my character and I got lots of offers. I signed up a few bad films, which made my career took up the back seat. I made bad decision for certain films. I got lots of appreciation for my glamour in 'Premalo Pavani Kalyan' which led to my role in Simhadri. I did my best in Simhadri and the rest is history.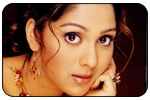 You seems to have been branded as a 'glamour' girl. Are you satisfied with that image? Or you want to do performance oriented roles?
In Premalo Pavani Kalyan and Simhadri, I projected the image of glamorous girl. In other films I did performance oriented roles. I don't think a heroine become a performing actress in Telugu film industry as it's a hero-dominated field. Heroines are turning into glamour dolls in telugu films and I have no qualms of being one.
Do you want to continue as an actress?
I want to continue as heroine for as many films as possible in Telugu. I am looking for offers from other languages as well. I would be doing a Tamil film in the direction of C Sundar. I would also be doing a Hindi film with Arya Babbar as hero. My aim is to do acting, entertaining people with songs and dances.
What's your future plans?
I don't plan things. I take life as it comes. I believe in destiny and God. I work hard and keep the rest to God.
Tell us about your family?
My father is a Gujarathi and my mother is a Punjabi. I am a mixed breed. My father is into diamond business. I have an elder sister. She is currently doing a job in USA.
Your parents does not having any problem with you doing glamorous roles in films?
We do come from South Bombay society. My house in Bombay is located at Napean Sea Road, Breach Candy. Everybody is broadminded. Most of the girls from that area are into modeling. Nobody has any problem. I have lots of support from my family. My mother joins me on sets and she encourages me.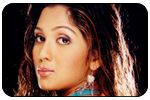 Were there any unpleasant moments when you were shooting for films?
Many times my health became bad. When I was shooting for 'Cheema' scene in Simhadri, I was running high temperature. The director and hero of the film were very nice. They shown lots of concern. I was moved by that gesture. My first film took 1 year to complete. I had only problems for one entire year. It's a part of the job I guess.
Your Hobbies?
I like to be with my friends and party with them. My favorite hobby is to sit on the computer and surf all the websites. For hours together I am on internet. I like to speak over phone and I love reading books. Indian History is one of my favorite subjects. I like watching films as well.
What inspired you to become an actress?
I have passion for acting. I want to make a mark for myself and get fame. I am interested in doing social work sometime in the future. If I have the status of public personality, it helps me propagating social service more proficiently.
Could you make any friends in Hyderabad?
No. I did not make any friends in Hyderabad. That's why I am feeling very lonely here. I have a few friends in industry with whom we speak over phone. My friends in industry and Shriya and Uday (Kiran).
Tell us about the characters you are doing in current projects?
In Geo Media Arts film, I am playing a spoilt brat who is also a rich man's daughter. I do all sorts of things to grab the attention of my father. It's a comedy subject. It's a very cute film.
I am doing the role of village girl from Sakhinetipally, West Godari district in Bala Krishna's film (Aditya Productions). It's a very native character. Its pretty challenging to do that character because I am portraying that role without meeting any native girl from that area. It's a very emotional character with a beautiful twist to it. It's a mass appealing character.
In Visalakshmi banner film, I am playing the role of maradalu (cousin sister) of Uday Kiran who wants to marry him. I have not started shooting for that film except for a song.
What are the parameters you consider while accepting an offer?
First of all I look at my role if its meaty. I look for the scope of exhibiting talent. Then I see the subject, banner, director, hero etc.
You worked with 3 Nandamuri heroes (Hari Krishna, Bala Krishna and NTR). How do you feel about working with heroes from such an illustrious family?
I worked with 3 members of that very much prestigious family from Andhra Pradesh. Everybody is teasing me that it's a hat trick for me. I feel very honored to work with heroes like Hari Krishna, Bala Krishna and Junior NTR.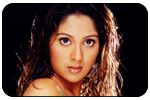 You have worked with so many heroes. Tell me who is the best?
Everybody is different in their own aspect. Certain heroes have certain qualities. NTR is so talented, tremendously professional and excellent human being. Deepak - of Premalo Pavani Kalyan - is one of my close friends. Bala Krishna sir is full of life and fun. He peps you up with so much of positive energy. I love to work with him. Prabhu Deva sir is such a great pleasure to work with too. Uday Kiran is such a sweet fellow.
What kinds of social services you want to do in future?
I have not made my plans concrete about the direction in which I would be serving society. I want to help in about the education in rural districts. I also want to provide food, cloth and shelter to poor people. I would like to do as much as I can with in my ability. It's the dream and biggest ambition of my life.
Do you have any dream role in films?
My dream role would be a double role. Something what Sridevi has done in ChaalBaaz film. Want to portray two extreme ends.
How do you feel when people recognize you when you are in public?
I feel very conscious, and sometimes I feel very bogged down. You would not be yourself. Public would be checking out every move you make, everything you say and do is being judged and registered by the people. But if somebody comes to me and ask for an autograph in Mumbai, it really feels nice. In Bombay, people don't care even if you are a celebrity.
Who is your favorite heroes and heroines?
I love Amir Khan, Amitab Bachchan, Chiranjeevi and Bala Krishna. Among the actresses I like Simran a lot. She is very beautiful and glamorous. I also like Manisha Koirala and Urmila Matondkar.
How important is the formal education for acting career?
I guess its immaterial and unnecessary for acting career. Its just a formality. I don't really like the Indian system of education. I don't have a very high opinion of it. Because the degree I was given was being sold in the market in Bombay. Its for sale.
When you have kids, would you send them to schools?
I would make them study a lot and do the things I could not able to do. I would send them abroad to study
You like studying in abroad?
Yes. very much!
Then what stopped you from studying in abroad?
Telugu films (giggles)! I signed one film and one film lead to another. I got so busy that I could not go.
What's your opinion about the status of women in India?
I guess women in India are very much suppressed. Women are treated in a very derogatory manner which is not the case in abroad. Even in urbane areas, subtle male domination remains.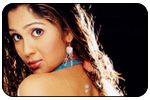 How did you come to know about idlebrain.com?
I don't remember, but I just remember one thing that ever since I logged on to idlebrain.com, I never logged off. Every single day I have been logging on. It has become my hot favorite site. I am very much addicted to that website. Not only because I was searching for news, it gives excellent detailed information about industry. There very well written articles and its fun to read them.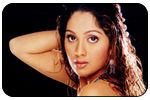 Any message to the visitors of idlebrain.com?
Thank you for appreciating me and my efforts in Telugu film industry and accepting me in spite of being a non-Telugu. I am an Indian and that's what really matters. Please do not misunderstand our film stars. We are here to entertain the people. Please do not misunderstand every move in our personal lives and professional lives.