You disappeared from the music scene 8 months back and now you are resurfacing as an actor. How do you find this transformation? What do you think the people would interpret it as?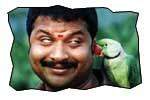 I do not bother what people think about it. I think about my growth and I have every right to take a decision that helps me grow. I think that I have reached a very good position as a music director. And the growth rate has become stagnated. And I feel that even if I work for another 100 years as music director, I would at the same level. I want to do something apart from music. Hence I am trying my hand at acting. Though I played the main lead in 'Seenu Vasanthi Lakshmi', I made sure that I also scored the music. People would be curious to know how well RP would score music to the film he is acting in compared to other films. Even after 8 months gap, people are still waiting for my album.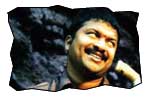 I have no background in music before I entered the film industry. I did not have any idea about ragas, swaras and notes. If I do any music, it comes from my heart. Likewise, my music travels to the hearts of listeners. The music has to be pure and pristine. It should be heart to heart music without any interference. There was some interference in my music in the past because of certain people that caused my music fail (to reach the heart of listeners) at times. 'Seenu Vasanthi Lakshmi' music is a perfect example of heart-heart music.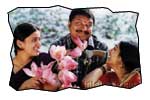 I always keep remembering my roots and past and how I struggled to come up in life. If I see the position I am in now and compare it with my past, I feel that I am really blessed. The God has been very kind to me. I would like to take the blessings positively and extend my reach in other departments as well. When God gives to you, he keeps on giving. You should have a check point every time and try to understand what God wants us to do. I think God has given me the offer 'Seenu Vasanthi Lakshmi'. I never took a wrong step in my life and I feel that 'Seenu Vasanthi Lakshmi' is also a right step. If anybody feels that I am making a wrong move with Seenu Vasanthi Lakshmi, I think they are making a mistake. I know more about myself than anybody else.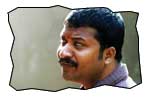 I have not taken the offer 'Seenu Vasanthi Lakshmi' because I wanted to become actor. I accepted the offer because I have it in me to do justice to the blind man role in that film. I am not doing this film because I want to do duets with heroines in New Zealand or I want to fight 10 guys at a time. I know what I am capable of. And God has given me enough brains to understand what I am capable of and what I am not!
There is lot of curiosity among movie lovers about how music director RP would have performed in acting department. I would not disappoint any of them. I am 100% fit for the lead role.
What is your goal when you came to Hyderabad to join Telugu film industry?
I wanted to become film director. The music direction and acting are the intermediately steps to become director. Director is the captain of the ship. Music director is the chief technician. Artist is the communicator. It is always advantageous to become director with the experience of music direction and action. I am going to direct a film after the release of 'Seenu Vasanthi Lakshmi'.
Tell us about your directorial venture?
I am planning to direct an English film that would be shot in Bay Area of USA.
When did you prepare story and why USA backdrop?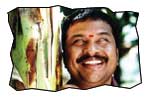 I had this storyline with me from many years. But I decided upon the backdrop as USA when I visited USA last year. I stayed in USA for a month and by observing the culture, tradition and lifestyle of NRI's I decided to make the film in USA. This film is going to be made in English. This film would be having duration of around 2 hours. I am planning to visit USA on 20th of April to do the groundwork. We are planning to shoot from July 2004 onwards. It is going to have very energetic and youthful story. I would be casting all actors from USA. All the technicians would be from USA except for the cinematographer. Jayaram Komati and Garapati Prasad are going to produce this film on a new banner. I would be a creative partner in that production unit.
Which director inspired you the most?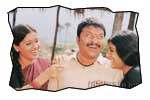 There are very good directors. But I would not follow anybody. I will follow the mood of the film. I like the direction style of Mani Ratnam and Ram Gopal Varma. I like Teja's screenplay. I like Guru Dutt and Raj Kapoor. We have to direct a film as per the demand of the script. We simply can't follow any director's style and force it into the film. I don't believe in plucking scenes from various movies to insert them in our films.
The climax in Malayalam original is a tragic one where the sister of blind man gets raped. Did you follow the similar climax for 'Seenu Vasanthi Lakshmi'?
I can't reveal anything about the story of this film. Though it's a remake, we made sure that we changed several parts of the film to make it a better one. You got to see it on big screen to know yourself.
Script of this film might not be very good. But I can assure you that presentation of the film is great. Every audience would feel that he/she has seen a good film after coming out of the theater. This film would have pleasing photography and smooth direction. I can assure you that Jeevi Rating would be 4.5 for 'Seenu Vasanthi Lakshmi'.
How did you get hold of heroines in this film?
I went to Mumbai. And got hold of Navnith through STANS agency. Priya is a Hyderabad-based Telugu girl. She is ex-Miss AP. She is a friend of me for a long time. We have been asking her to act in films since Chitram days. She kept on refusing. She acted in this film because I am making my debut as an actor. Both these heroines did a good job.
Your film Seenu Vasanthi Lakshmi and your friend Teja's Jai are releasing in the same weekend. Is there any cold war between you two?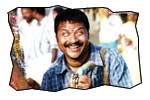 No. Incidentally, lyricist Kula Sekhar decides the auspicious dates (muhurtaalu) for us. He suggested the same dates for both Jai and Seenu Vasanthi Lakshmi. He feels that our films would run well if they release on those dates. The summer season would welcome 2-3 hits a time. I also have a selfish reason. The overflows of Jai film would visit the theaters playing Seenu Vasanthi Lakshmi. When films of Teja and RP are releasing, people tend to compare how our films are doing. In order to compare, all the movie lovers would watch both the films. In the process, Teja would not lose anything. But I would definitely gain more than what I would have got if this film were released separately.
For the first time a music director other than RP Patnaik is scoring for any Teja's film. How do you rate the songs of Jai (scored by Anoop)?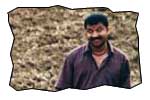 I did not like '123' song in the audio album. I immensely liked 'Yenni Aasalo Chinni Gundelo' song. Everyday I hum that song. I personally feel that Anoop has shown only 2% of talent he possess through 'Jai' album. That's probably due to situational constraints in the script. Audio of Jai may not be very good. But it is not bad either. There is an expectation for the audio of Teja's films and Jai could only reach those expectations partly. Anoop is capable of doing a much better music. Checkout the music of 'Nijam'! It's a serious film and there is no scope for music in Nijam. Likewise, there might be some script constraints for Anoop to score music. I also feel that There is also much time gap for Jai in between the release of the audio and the movie.
You have your movie release in 15 days time. Do you feel tensed?
I don't have any tensions. I am very sure that this film is going to run well.
What is the budget of this film?
Rs. 2 crores.
Who are your target audience when you make music?
Kids are my target. Kids have amazing ability to grasp and embrace nice music. If kids like a song, everybody would like it.
Tell us about the music in 'Seenu Vasanthi Lakshmi'?
All songs in this film are situational. No song is a forced one. All the songs would have happy notes. But, in the film all these songs have right emotions and make you feel very emotional.
Movie lovers in AP recognize you by face as you have given several stage shows and appeared many times on TV. Don't you think, people tend to see music director RP in Seenu Vasanthi Lakshmi than seeing the blind man?
I guess that conflict would be there for the first 5 minutes of the film. After that they would be engulfed into the mood of the film and see the character 'Seenu'.
Tell us about the director E Srinivas?
He is one among our friends. Unfortunate, rather fortunately, his debut film 'Kothaga Vundi' was stalled. He is a very talented technician.
Tell us the opening scene of this film?
The film starts with 10 second darkness (black screen). After 10 seconds, there would be a voice over saying, you are feeling irritated for a 10-second darkness. What would be the plight of blind men who live their entire lives in darkness? 'Seenu Vasanthi Lakshmi' story belongs to one of those blind men.
You are acting as blind man in this film. Actor Chiranjeevi has established 'Chiranjeevi Eye Bank' to server blind people. Did you meet him regarding this film?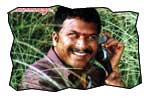 100 members of the team who worked for 'Seenu Vasanthi Lakshmi' are going to donate eyes to 'Chiranjeevi Charitable Trust'. While doing this film, lots of our team members started realizing the pain a blind man goes through. When I informed this to Chiranjeevi, he felt really happy. At the same time, I don't want to use this deed to promote my film. It's a personal and emotional cause and we want it to be a private thing.
After the film becomes hit, I want to go to people and request them to donate the eyes. Again, I would not like to use this tour to promote my film. I would do it individually as a responsibility.
What is the difference you feel between the last year's birthday and this year's birthday?
I was over-burdened with music work for the last year birthday. Time used to control me at that time. And now I can control the time. Even if I score music for outsiders in the future, I make sure that I have sufficient control on my time.
Click here for exhaustive 1st interview of RP.
We, along with visitors of idlebrain.com, wish RP Patnaik a great birthday and wish that he would be a successful actor and director when he celebrates his birthday next year!