Tell us about your background and how 'Aithe' happened?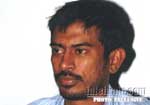 Tuni is my native place. In spite of graduating from IIT Madras as an Engineer, my father preferred to start a business in Tuni than working in a company, as he wanted to be his own boss. With that influence, I had a mind set that doing engineering and obtaining job is not the ultimate meaning of settling in life. I have a lot of fascination towards Sciences, especially Physics. If I had done any hero worship so far, it's none but Albert Einstein. I feel that he is a very creative person. I used to dabble in physics subject and I secured 48 out of 50 in my CBSC examinations (10th standard).
After my +2, I got enrolled into Marine Communications course in Central Institute of Marine Communications (CIMS) at Vizag. After joining CIMS, I found the subject boring as they were teaching the same old stuff about circuits, anodes, cathodes which I learnt in 10th class. Still I continued and wrote my Morse code exam.
After writing that exam, I came to Hyderabad. Gangaraju Gunnam is my cousin. He is one of the best creative brains you could ever come across. He is into creative fields. He is an ad-maker. He is the founder of FONT greeting cards, which shook the greeting card industry in India in a big way. He saw creative zeal in me. He asked me to do designing work for those cards. I came up with 100 designs, out of which he approved just one.
At the same time he entered film industry and produced and directed a film titled 'Little Soldiers'. I worked as an assistant director for that film. The moment I took up that job, I realized that this is the place for me and this is what I should be doing. I learnt many things while making that film ranging from production to direction. After 'Little Soldiers', I had a period of lull. Later on I worked with Gangaraju in ad making and did paper design works for corporate offices.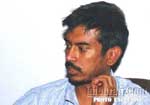 I decided to work with outside directors, as there were no in-house film projects. I approached Krishna Vamsi. At that time Krishna Vamsi was making 'Anthapuram'. He asked me to join as his assistant. At the same time, K Raghavendra Rao was appointed as an Advisor for Electronic Media. He got hundreds of ad film projects, which he was supposed to make for the AP Government. When I approached him, he gave me a couple of small assignments. He was impressed with my work and promised me many more projects. Then I had to weigh the pros and cons. I decided to drop the idea of working with Krishna Vamsi as an assistant director and joined K Raghavendra Rao to do independent projects as director.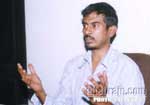 After that Gangaraju started a production house titled 'Just Yellow' and planned to do a couple of feature films and 3 tele serials per year. He asked me to direct a TV serial for him. I was hesitant as I might get stuck in TV media if I accept that offer. But Gangaraju convinced me by saying that by working for TV media one can gain enormous exposure and confidence. I directed the first 10 episodes of 'Amrutham' serial, which received pretty good response. After that I got back to Gangaraju and told him that I was confident of directing a film. He asked me to prepare a subject. I prepared the subject and he okayed it. That's how 'Aithe' was born. (read more about Aithe in postmortem section soon)
I think becoming a director is the ultimate convergence point for any creative person.
What are the films that influenced you the most?
When I was kid, I used to watch lot of Krishna and NTR's films. I grew up on a diet of Telugu films. I never had access to English films. The only English films that played in our town at that time were B grade soft porn films.
But it was Geetanjali - a film by Mani Ratnam that caught my attention. The first stunning film that had a huge impact on my mind was Shiva. Mounaragam is the film, which I saw more than 10 times (highest number for me).
I liked all the films of Mani Rathnam except for Dalapathy. I also liked Sekhar Kapoor's 'Mr. India'. I used to watch all the films of Mani Rathnam and Ram Gopal Varma on the very first day.
I like Bapu garu a lot. If you show me any technician or director in this world, I can confidently say that I can match them or imitate them. But Bapu is one director whom nobody can match or imitate. You can see lots of protégés of other directors coming up in this industry. Can you show me one protégé of Bapu garu?
A Hollywood film that created a major impact on me is 'Life is Beautiful'. He created such a beautiful character and took that character close to our hearts and at the end of the film, the directors kills the hero. I wanted to watch it for the second time, but did not have guts to do so as I didn't want to see such a heart-touching climax again. If I get a chance, I would love to create such a character and take it very close to the hearts of the audiences.
Other than watching selected movies, I am not a major movie buff. I am also afraid that I might get influenced if I watch too many films. I want to retain my originality. (laughs)
Who are your favorite directors?
My all time favorite director is Mr. Gangaraju Gunnam. Apart from his, i also have favorites like ....
Steven Spielberg and Roberto Benigni - Hollywood
Ram Gopal Varma, Mani Ratnam (in his earlier phase) and Bapu - Hollywood

About Art movies
I don't like art movies. I strictly feel that making movie is for commercial purposes. Watching an art movie is like listening to a boring lecture in college. Just like good lecturers tell the lessons in an interesting style, I feel that good moviemakers should made films with an interesting narration.
How do you direct a film?
Have a simple storyline. Visualize it and transform it on to the screen without losing the original thought and convince the audiences. Show the audience the film the way you visualized it before going to the floors. You have to be very effective in telling your story. If people understand it, it's a good film. If they fail to, then it's a bad film.
The other day, Ram Gopal Varma showed me a few DVDs where some of the best-made scenes are packaged into a DVD. Those scenes were pretty unconventional yet terrific.
What is screenplay in your opinion?
I feel that screenplay should be like (a house made with) a pack of cards. If you remove one card, the entire structure goes down. Each and every scene should be well connected with the storyline.
Any suggestions to people who want to enter film industry as directors?
Think original. Be confident and stick to the basics. You can always make different movies and make them commercial hits as well.
Tell us about your future projects
My Hindi film in Varma's banner is supposed to start now. But we got stuck with the story. Hence I decided to finish directing a Telugu film before directing Varma's film. Currently I am working on a project, which is going to be produced by KLN Raju. I don't want to confine myself to film direction. If I can get a chance, I would love to direct documentaries for TV channels like Discovery Channel and National Geographic Channel. I do not know how to get in touch with them. If you guys have any contacts, please help me out in this regard.
Are you making your next film in Telugu with new faces?
The hero and heroine in that film would be new. It would have other regular character artists.
Tell us about your age and marital status?
I am born on 4th March 1973 and I am single.
Any message for the visitors of idlebrain.com?
Since most of you guys are well versed with the latest technology in cinema and the making of Hollywood films, please advice me how I should improve in my filmmaking by posting messages at IBDB (Idlebrain.com Discussion Board). I am a regular visitor of IBDB and idlebrain.com.