You suddenly seem to be all over the place. Featured on magazine covers (Showtime, Cosmopolitan), to getting a mention in most national news magazines and papers. You seem to be on a roll. How are you taking to this media interest?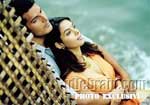 Well, I'm riding on the wave of interest that Khwahish has generated. I think it's a brilliant film in the mould of Monsoon Wedding or Dil Chahata Hai, and the director and Uday Devare, the cinematographer who used to be Santosh Sivan's assistant has shot me beautifully. I have to be grateful for my role in the movie, which is a rare female-oriented script. It is all quite overwhelming at the moment, but I'm doing everything that I can to promote Khwahish even though I really hate doing interviews because Perry Pictures and the team of Khwahish are family to me and I'll do whatever it takes to promote this film as I believe in the team, the director and the story.
Your director Govind Menon has said you blew competition by miles during the screen tests, which is supposed to be the best he has seen. That's a flattering compliment for a newcomer. What were the scenes you had to emote?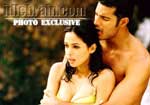 I am really lucky that my director has so much faith in me. I had to perform two delightful scenes in the screen test -- one, a comic nightmare about how I try to cook live crabs - I didn't have much of a problem as at the end of the scene I slip and fall and a live crab lands on my breast and I scream my lungs out. The other one was the much talked about condom scene, where for the first time on Indian screen a couple talk about contraception on their honeymoon night. I was again called back after a few days and asked to do the scenes with my co-star Himanshu Malik, after which I prayed day and night and when I was told I was cast in the film I was over the moon, as I had heard the entire script before the second screen test and I knew it was a dream role for any actress at any point in her career.
The industry and public are used to the actresses who have done steamy scenes giving clichéd answers and regretting doing the scenes later? Compared to this, your statements in the media about the film have made people sit up. Were you being frank and natural or doing it for effect?
I can't speak for other actresses, but as far as I am concerned I'm an actress and it is my job to do whatever's required of me as per the demands of the script. I don't believe in putting on an act in my interviews - I am who I am, and I think our society is very biased when it comes to women.
Whatever I did, the hero did it too with me, so why single me out -there's a line in Khwahish - If a guy does it then he's a stud, but if a girl even wants to kiss, then she's a slut. As a 21st century Indian woman, I believe in fighting for my rights to be treated equally. I think as a country we still have a long way to go.
After a forgettable stint in Vashu Bhagnani's 'Jeena Sirrf Mere Liye' last year, you seem to have re-positioned yourself in a new avatar, with a name change. How did this come about?
Jeena Sirf's a bad nightmare. It was supposed to release after Khwahish and I had signed that because of the banner before I signed on for Khwahish. The film was hurriedly completed and dumped into the theaters, but luckily for me only my family and Tusshar and Kareena's families saw the film and it bombed miserably. My screen name was Mallika in that too, but this is my first starring role and for all practical purposes, my launch film as well.
You have shot ads with Amitabh Bachchan and Shah Rukh Khan. How was the experience shooting with the big stars? Can you recount any interesting experiences when you shot with them?
Ads just happened as I was struggling to be cast in films. I was completely in awe of Amitabh Bachchan -- Jack Nicholson and Bachchan are the sexiest men alive, and it's my dream to do a feature film with both. I had just moved to Mumbai when this ad happened and I was nervous as hell. In the Shahrukh ad, I didn't have too much to do, but he was sweet and unassuming and I look forward to working with him in the future as well.
Your co-star Himanshu was quoted saying his family and extended family is amused by the promos. How is your family reacting to this movie and all the attention you are getting?
I come from a family of highly conservative and orthodox Haryani Zamindars and no woman from my family has ever done something like this, in fact no woman from my family has ever held a job, so needless to say they are in shock therapy at the moment. Recently they watched a trial of my film and surprisingly they all loved the movie except for the hot scenes.
You are lip-synching to six Asha Bhonsle songs in the movie. Any interesting experiences during the shooting or recording?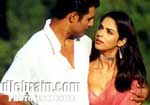 It's a dream come true for me - I am Ashaji's biggest fan and to have her sing all 6 songs for me after 16 years (The last time was for Gulzar's Ijaazat) is unbelievable. I attended every single one of her recordings and hit it off wonderfully with her - I just adore her. I had to perform a classical song and she took the time to coach me on how to perform a Hindustani classical number on stage. I will forever be grateful to her for her tremendous support and encouragement. I couldn't stop smiling when she complimented me on my performance after seeing the movie.
Tell us about the character `Lekha'. How close or far-removed are you from her in real life?
I think there are a lot of similarities between Lekha and I. The director has had the guts to portray an Indian woman as she is and not as she's supposed to be - so the character has flaws and irritating qualities as well as some extremely frank and honest opinions about what women `really' think. I feel really close to Lekha and a lot of what she is me.
What next after Khwahish? Any offers on hand?
Offers are pouring in, but I want to make sure I don't make any mistakes and so I'm being very careful in selecting scripts. I'd rather do one or two films a year that I believe in than 10 big starcast proposals in which I play a wallflower. For now I'm over the moon as I've signed on for Govind Menon's next film which is also produced by Vivek Nayak, the producer of Khwahish. It's a fabulous script and speaking selfishly its completely female-oriented and I play the central character. Besides that there's an Indo-French project directed by a French director which I have said yes to.
Have you seen any south-based movies.. Telugu, Tamil, Malayalam?
I've seen most of Manirathnam's films, Priyadarshan's Kalapani, Rajeev Menon's films, Kamalhassan's Pushpak and Appu Raja and a couple of Shankar's films. These have all been dubbed, but otherwise it's difficult for me as I do not understand the language. Govind's told me a lot about Malayalam cinema and has promised to get me some sub-titled copies. I am yet to see a Telugu film.
A lot of Bollywood actresses have gone down south and done well for themselves. Simran, Raveena Tandon, Nagma, Jyothika, Priya Gill, Pooja Batra, etc. Are you open to film offers from the South? What's your opinion?
Good for them. For now I'm comfortable in Hindi and English - I have turned down three Telugu and four Tamil films so far as I have no clue about the languages. So for now I want to first make a mark in Hindi cinema and in International crossover films - I loved Bend it like Beckham, Monsoon Wedding and Bandit Queen and that's the kind of cinema that I'd like to do in the future.
Any fears that you may now be typecast as a sex-bimbo, with all the hype the movie is getting from the steamy promos?
Well its better to get some attention than no attention, isn't it? I work out for two hours every day and I'm proud of having a good body, and if that attracts audiences to the theater, its fine with me. But remember I have the central role in Khwahish, which examines a five-year relationship from courtship to marriage to post-marital issues and the end of the relationship. I believe that after seeing the film I'll be vindicated. Besides I am doing Govind Menon's next film in which I have a role, which is completely different from the one in Khwahish.
Now that the release date is nearing, what are your emotions? Butterflies in the tummy?
I'm a little nervous about all this fame - not being able to go shopping and roam around as I like, but I'm supremely confident as far as the movie is concerned. Khwahish is releasing worldwide on the 6th of June. And do check out the website www.khwahishthefilm.com. And I hope idlebrain.com readers will watch Khwahish on the 6th with their friends and family.