22 August 2012
Wizard of Willow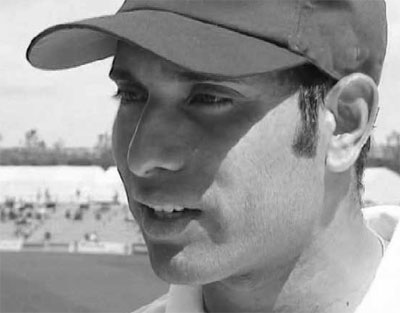 Try coaching this in academies - take the ball pitched outside off, tad shorter than fuller length, and turn it to either bisect the mid-on-mid-wicket area, or if feeling adventurous, between the mid-wicket-square-leg area. Along the way, make it appear caressed, not forced. Try putting this in instruction manuals - take the ball pitched on good length and gently drive it through the covers region as to appear providing fielding practice to that cordon, but in fact to pierce the formation and saunter to the boundary in the same languid fashion as it was treated. Also, lean into the shot as though it was a defensive one. Shots as these cannot be taught, cannot be coached, cannot be passed down. They simply find their way into the repertoire of the blessed. The Jaisimhas and the Azaharuddins found to had been touched by this 'Lady Delicacy' years before. She has a special liking for this land of the Nawabs, their laid back styles, their lazy and easy lifestyles. Yet this is the same land where artisans dabble in the delectable and artists toy with the ethereal. This is the land of enchantment. How else can one explain the exquisite artwork on pieces of glass in dusty, noisy, crowded streets of Charminar, or the intricate ornamental designs centered around pearls in the busy 'gallis' of the Old City. Or in the numerous coaching camps that spring up in summers in crowded playgrounds all over the town, where the eyes of the little ones decked up in full gear light up when the ball pitches in their comfort zone, and the hands take over and put on a show to the coaches and every one watching around with shots that scream, not of power or some prodigious talent, but one of grace and sheer beauty. This is pure Deccani. This is the 'Hyderabadi gharana'. And VVS is its last maestro.
There is an aura of ease to his style, a style that seems in-born than inculcated. The bat that appears more like a wand his hands, his hunched over stance that strains to tap it a couple of times on the ground before it meets the leather, and the fraction-th of a second that it takes to eke out the exciting out of the ordinary (he might even mutter a 'voila' under his breath at that precise moment when the ball makes a connection with the bat) - he is not a traditional batsman with textbook shots and instruction manuals' maneuvers. This is a wizard at work with the willow, a mark of a magician whose sleight of hand glosses over painstaking effort that he had put behind it, making the act appear casual and natural. 'Of course', he seems to question, 'how else would one play? The ball is begging to be petted and it would rejoice the preferential treatment it receives'. These shots are not traditional, they get filed under 'mystical'. Kind at heart, gentle in gait, a bashful smile on the face, his bats spouts poetry and he scores in verses, in a game that is fast replacing its aesthetics.
While Sachin is all talent, Dravid, all tenacity, Ganguly, determination, VVS is nothing but dramatic. As a batman, he remained a puzzle to the selection team (selectors, coach and captain) during his intial years of his international career, shifted and shuffled all around the top order, until he found his true calling partnering with the less fortunate in batting talent. Right until that carefree moment in Sydney 1997, at the near end of what had been a nightmare tour Down Under, he struggled finding a foothold and identity in a team that was fast filling up with superstars and fast running out of superlative titles. The 167 against the Aussies, the first of many more to come, changed the way both the world and he himself looked at his place and position in the team, when he turned himself into the patron saint of near lost causes, reveling in adverse conditions and must win situations, left to partner with little else but wagging tails. It'll be an interesting statistic to find out who among the renowned in recent history singlehandedly won more matches for their country, and there is no doubt that VVS ranks at the near top. His 40s, 50s and 60s made more difference for the end result than others centuries and doubles. But in a country that is obsessed with its numbers, where a non-Sachin can only be as good as his last century, he found himself constantly on the chopping block, having had to prove himself to the doubting public, who constantly pointed to his slow legs in peace times while conveniently ignoring his deft hands in times of strife.
In India, the euphemism for setting aside players of such ilk, who had no advocates besides their performances, is "fresh blood". After a great run in 2003, both in the longer and shorter formats of the game, he was made to make room for a quota candidate, Dinesh Mongia, for what is every cricketer's ultimate dream, to represent his country in the World Cup. And the reason cited by the selectors for passing over VVS' then great form - "young legs". Younger than what, fresher than what? VVS was 29 then. The quest for fresh blood is fierce amonng probably only two sporting bodies in the whole world - Chinese gymnastics and Indian cricket. While the former has certainly a few golds to show for its over-enthusiasm, India's misplaced obsession for ignoring true talent in favor of the "young legs" is yet to bear a good fruit. VVS' career is constantly interspersed with such moments of dizzying glory and depressing after shocks. A drama, they say, needs to have great conflict to be engaging enough. That way, VVS' career couldn't be more dramatic.
Who has the highest tally of runs and wickets? The answers change every other decade. But who has that silken touch to cajole a swinging away delivery to change its path and dance all its way to the boundary on the opposite end? This chosen list doesn't get overwritten, it merely gets appended. Records are meant to be rewritten, but artistry is forever appreciated. VVS is one such artist among accumulators, from the 'Hyderabadi gharana'.
checkout http://kanchib.blogspot.com for Srinivas's Blog
Tell Srinivas Kanchibhotla how you liked the article
Other cricket related articles by Srinivasa Kanchibhotla
A beautiful mind - Rahul Dravid
Business as usual
Vote of Thanx
Bittersweet story
The I's and The T's
Means and extremes
Fair Play
Game Changing Game
What's in a win?
The shining silver lining
Winds of change
Battle of the Bamboozler
Less is more
Hit and run
Tales from down under
The three sides of a coin
Blast from the past
The other side of a win
Finding Neverland
Hail The Weaklings
Bringing down the house
Every (under)dog had it's day!
Lord of the ring: Return of the King
Lord of the ring - the departed part - 2
Lord of the ring - the departed part - 1
Lord of the ring - twin towers
Game is on
What's in a number?
Roll out the carpet... the green variety that is
Garland the ground staff
How the west was won
A time for Reversal
The sands that blotted sweat and blood
Let the good times roll
The curse of success
It's Official....
Win some, lose....nah....win some more
All is well
Expect the unexpected
From the Ashes, it rose!
It is progress ... DAMN IT!!!
Ghosts of Chinnaswamy
Congratulation Message to Indian Cricket Team
Resumption of ties
Rock, rock, rock it again!
Tour full of negatives