September 3, 2007
Yamadonga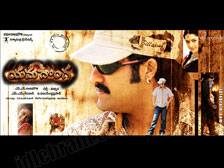 Yamadonga-"is it a remake of the super hit of yesteryear's Yamagola?" was my first feeling when I heard about the movie. And it was true to an extent. The movie has all the fantasy elements of the old version and also a number of other things which captivate u and hold you spell-bound for a complete 3 hours.
The first surprise you get once the movie has started is an extremely slim and fit looking NTR. It took me almost the whole time to actually believe that this was the same guy who had done Rakhi….
Then there is the plot-a petty thief who gets killed by Yama when he scolds the latter. This thief is so clever that he usurps even Yama's power and threatens his place in heaven!!! The entire naraka episode is filled with anecdotes and comedy. Superb dialogue delivery by the 2 yamas (NTR and Mohan Babu) brings the house down.
The songs are an added asset to the movie. They go along with the flow and are foot-tapping.
Coming to the cast-Priyamani is really sweet as the curbed and tortured heiress; Mamta Mohandas entertains with her Nellore dialect (abbayya….). Rambha sizzles in the item song just as she did in Desamuduru.
And last but definitely not the least-NTR is the toast of the film. This being the first film of his that I've watched, it's been an awesome experience. He's an absolutely great actor, a stupendous dancer and a good comedian. To top it all, he's enticing in his new look.
SO all you guys who have any misconceptions about watching this movie, brush them aside and GO FOR IT!! (You'll never regret your decision- Young Yama nijanga iragesadu)
R.Lalitha Spoorthi
[email protected]
More My Movie experiences:
Chak De India by Shyam
AMAV by Darsakudu
5 in March by Sashidhar
Okkadunnadu by Anand
Black Friday by Ratnakar
Desamuduru by Krishna Prasad
Guru by It's opinion
Dhoom 2 by Lalitha Spoorthi
Dhoom 2 by ASK
Don - Syam
Boss - Anand
Boss - Hrithik
Stalin - Bala
Bommarillu - Nandini
Bommarillu - Darsakudu
Bommarillu - Vasu
Bommarillu - Harsha Prakash
Bommarillu - Lalitha Spoorthi
LRMB - Shravan
Bommarillu - Anirudh
LRMB - Srinivas
LRMB - Darsakudu
LRMB - S Sridhar
Bommarillu - Shridevi
Bommarillu - Vasudev
Bommarillu - Roopa
Sriram - Godavari
Sarath - Bangaram
Bala - Pokiri
Srinadh - Allari Pidugu
Sudheer Allari Pidugu
Anu - Athadu
Shyam Krishna - Iqbal
Purnesh - Grahanam
Sudhindra - Super
Vijay - Aparichitudu
Madhav - Aparichitudu
Hazaraon Kwaishein Aisi
Swades
Shyam - Black
Sai - Anand
Rohit - Anand & Veer Zaara
Jaya Prakash - 7GBC
Raj - Anand
Purnesh - Anand
Purnesh - The Village
Sriram - Gudumba Shankar
Purnesh - Gharshana
Purnesh - Lakshya
Purnesh - Yuva
Leenesh - Yuva
Kis - Lakshmi Narasimha
Indian Pride - Tagore
Raj - Boys
Phani - Gangotri
Phani - Khadgam
Vikram - CKR
BKR - Indra (Singapore)
Ram - Indra (Dubai)
Ranjeet - Idiot
Rahul - Indra
King Koduri - Indra
Srilakshmi Katragadda - Mitr: My Friend