Story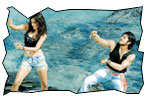 Charan (Ram Charan Teja) has a bad childhood as his father was murdered in front of his eyes. And he had to own somebody else's mistake and go to jail to save his mother. When he returns back, he realizes that his mother is dead. Then he is employed as a tour guide in Bangkok. Sanjana (Neha Sharma) - the daughter of a rich man - is on vacation to Bangkok along with her friends. The rest of the story is how they fall in love and how Charan takes revenge on the people who are responsible for the murder of his father.
Artists Performance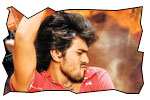 Ram Charan Teja: Ram Charan Teja is simply superb. His debut is undoubtedly one of the best debuts in Telugu film industry. He looks so soft outside. But in the film, he appeared like a man who is cutout for the masses with a slight beard and manly demeanor. He is as good as Chiranjeevi is dances department. There is amazing fluidity and rhythm in his body. He is extremely good in doing fights. His casual action is also good. One would have suspected a little about his dialogue delivery before watching the film. And he is really good at delivering dialogues. There is a bit of bass in his voice which can be used for uttering powerful dialogues. And most importantly there is a bit of innocence and cuteness in his face which would make it an ideal choice for love stories as well. He has got everything right in his first film and with proper career planning only sky is the limit. To sum up in one line, Ram Charan Teja has all the qualities to become the future mega star!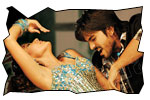 Others: Neha Sharma did the role of a haughty girl. Since her character is an irritating one, it causes a bit of inconvenience to the viewers. The voice of dubbing artist was also rendered at high pitch which is not good. Asish Vidyardhi did a limited, but vital role in the film. Prakash Raj did the role of over-protective rich dad of the heroine. Ali's comedy as eunuch and his slang is humorous if you ignore the vulgarity aspect in it. MS Narayana is alright.
Technical Departments: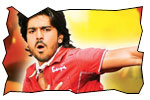 Story - screenplay - direction: The story of the film is prepared in such a way that it exploits and exhibits various histrionic aspects from the debut hero. That is the reason why the film starts with a sentiment scene, followed by action episode and then continued with romantic escapades. Hence, the story of the film became a hotchpotch one. Puri Jagan's mark is there is certain scenes of the film, but his typical characterization is missing. He succeeded in showing Ram Charan's entry in an exciting style. The editing cuts and stylish taking in hero's introduction scene are excellent. Puri Jagan succeeded in presenting the hero very well. But in the process, he did not do justice to the story and screenplay. The second half should have been better.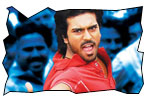 Other departments: Music by Mani Sharma is pretty good. All songs coupled with good picturization and cool visuals get the best out of Ram Charan Teja. The way Puri Jagan added leads for the first two songs (like Mani Ratnam) is cool. Cinematography by Shyam K Naidu is neat. Puri Jagan changed his dialogue style for this film.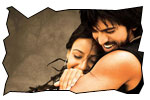 Analysis: The first half of the film is alright. The second half slows down a bit. The plus points of the film are Ram Charan Teja, songs and fights. On the flip side a better heroine and a better second half would have done wonders to the film. This film proves that Ram Charan Teja possess all qualities to become the next mega star. Chiranjeevi's pulling capacity and Puri Jagan winning box office streak makes this film a hot proposition. We have to wait and see for the box office verdict.
Chirutha links
• Photo Gallery
• Wallpapers
• Trailers
• US schedules
Jeevi reviews of previous 5 films
• Happy Days
• Chandamama
• Raghavan
• Yamadonga
• SDZ
• Lakshyam
• Bahumati
• Sivaji
More Reviews