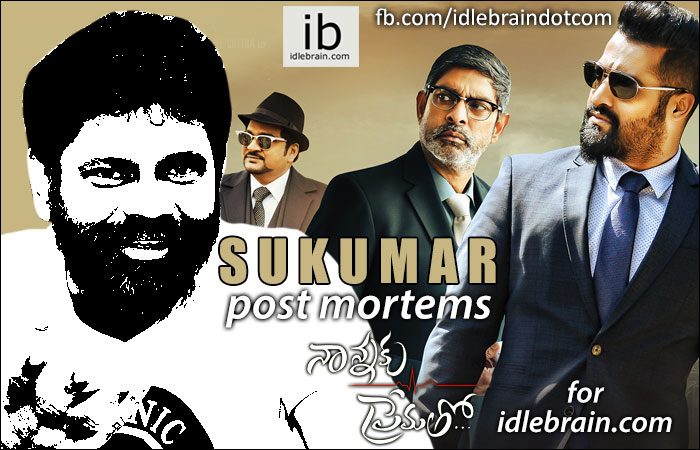 What is this post mortem?
Idlebrain.com is starting this exclusive, explosive and exciting section called Postmortem, where we conduct a postmortem of the latest releases. We shall be discussing and analyzing the strengths and weaknesses of the movies with their respective directors as to why those films have become hits/flops. We request the directors to give us their honest and frank opinions.
22 January 2016
Hyderabad
Disclaimer: This post mortem discusses twists and climax point. If you haven't seen the film, please don't read it. Please read the following postmortem only after watching Nannaku Prematho.
Nannaku Prematho who is released with a divide talk has settled as a hit. It's going to end up as the 3rd biggest Telugu grosser in USA after Baahubali and Srimanthudu. In Telugu states, Nannaku Prematho will be the biggest revenue grosser in the career of NTR.
You gave story and screenplay for Kumari 21F. There are allegations that the story of the film is a ripoff of a French film called Lila Says. What's your reaction to it?
The story idea is mine. The genesis of the story lies in the interval point of Kumari 21F where heroine asks hero - 'maturity vunda?'. Hero characterization is completely different. I have written a different climax for the movie. But, got convinced with the blood part of it, which is inspired by Lila Says. There is inspiration of Lila Says for the climax of Kumari 21F. Except for that everything else is written using my thoughts. Kumari 21F is my best screenplay so far.
I have worked for over an year on the script of Kumari 21F where as it took just 3 months to complete Nannaku Prematho script.
Tell us the genesis of Nannaku Prematho story and how it's developed?
I regretted that I couldn't fulfil the wish I had for my father when he was on deathbed. I wanted to take my parents to abroad and show them foreign shores. The story idea of son fulfilling the last wish of father was born there.
When I told the basic concept, NTR got excited. This story can happen in any city. But, it was NTR and Bapi (producer) who suggested London backdrop. Then I wanted the butterfly effect to be used in the theme of the film. Most of the films that came so far about butterfly effect discussed two scenarios - what if it happens and what if it didn't happen? I used Butterfly effect as a sequence from beginning to end. Butterfly effect concept helped me in creating novel screenplay.
The basic concept of the film is simple. NTR places a spy camera in the painting and there by retrieves password. In order to make it happen, he needs to place the painting in office of Jagapathi. To make sure that the painting looks over the laptop screen, NTR has to make sure that Jagapathi Babu's desk is shifted from the current place. To make it happen, he befriends Jagapathi Babu's daughter.
Audiences might think that NTR wanted to make heroine fall in love. But that's not true. She tries to buy the painting thrice. He interrupts her those three times by making her have coffee with him. There is also a dialogue in those conversation in which NTR says 'your father might lose all his money because you have coffee with me'. He says that because he is going to make her place painting in Jagapathi Babu's office and shift the table of Jagapathi Babu.
Audiences initially think that the story of the film is started the moment NTR comes to know about illness of Rajendra Prasad. But it's a revenge NTR has been plotting against Jagapathi Babu long long ago.
NTR's characterization
The basic trait of NTR character is that he performs wonders. He has to defeat villain exactly the way villain does. During the scripting time, NTR was taking rest and he grew beard. NTR has to look like a modern time Maharshi. The bearded look and different hair cut suited him perfectly. I supported NTR's look very strongly and it worked for the film.
Jagapathi Babu's characterization
Speciality about the villain is that he doesn't kill people. He just wins. I wanted to project him as a sophisticated and non-violent villain. That's why he wears white suits. I haven't shown close-ups of Jagapathi Babu. His shirt or coat is seen along with the face in all shots. Just like how directors show white coat and stethoscope when they show doctors in films, I made sure that Jagapathi Babu's dress is shown all the time.
Balls: He classifies the people he meet into three categories. Accordingly he plays with their psychology to win a game. Initially I thought of using some puzzles, then realised that it will complicate. I used two small cylinders which actor tosses up and they gets joined when they come down in Jagadam movie. I modified it to two round balls to use it for Jagapathi. There are so such custom made balls that are cut into halves in market. I have got them made for this film.
Idi Gurthunchuko. Tharvatha Cheptanu: Actually it's the dialogue I use when I discuss scripts with my team. I ask them to remind me later as I keep forgetting. It was my direction team that suggested that we use this dialogue in the movie.
No physical fight in climax
I feel that the commercial point of the film is hero's intelligence. If I kept a fight in climax, entire purpose gets defeated. I thought that it would be a problem if I have a physical fight in climax.
Why are you so much convinced about Butterfly effect?
I have a guru called Ram Mohan Reddy. His son is my friend. His son died in an accident while traveling in a rich friend's car. His death haunted me as I felt I was one of the reasons for the death. He wanted to come with me to Hyderabad and I asked him to come after 3 days. Accident happened in that gap. The guy who did accident was a son of a billionaire. He came from Chennai. He could afford to come in a flight, but didn't get a ticket. Hence he came in his car (accident car) from Chennai. My guru asked his son not to go to college on that day, but my friend wanted to go. There was so many permutations and combinations by which he could have escaped death.
Which scene in the film should have been handled better in your opinion?
The Spain episode should have been handled in a better way. Wish we had more time for editing. I would have liked to have a lead scene for LEAD before NTR visits Spain. Climax should have been more impact-making. I had the material, but couldn't shoot it.
There is also a scene I had written in which Jagapathi Babu says 'mosam' after NTR makes Jagapathi penniless, then NTR replies 'mosam kaadu. business'. But it's not there in the film.
DNA sample
The reason why NTR wanted to take DNA sample of heroine is that he wants to introduce mother to heroine. But there is a bit more to it. The jail authorities release Madhubala only if a blood relative claims her. Hero wants Rakul to take care of Madhubala after release. But we didn't include and establish that in final product. If you notice to final scene of the film where people sit in white dress to pay respects to Rajendra Prasad, there is a vacant space in the first row. We wanted to shoot Madhubala in a blue mat and add it in those frames. But couldn't shoot it due to lack of time.
These are the two doubts most of the people ask me
What are they and what's your response?
1. Why did Jagapathi Babu escape when his wife is in trouble?
Response: He is smuggling drugs. He doesn't want to be caught. Hence he made his wife a scapegoat for his growth.
2. How does NTR know about Rakul Preet's dream?
Response: NTR reads diary of his father in which he mentioned about the arrest of Jagapathi Babu's wife to explain how ruthless Jagapathi Babu was. NTR guessed that the most nightmarish incident in Rakul's life is separation from her mother. That's how he guess the unpleasant dream. That's the reason why he connects Rakul with her mother in second half and then says that the dream is complete.
Sukumar: Yes. That's correct.
Who penned dialogues?
I don't have separate professional dialogue writers. Three from my direction team - Vikram, Buchibabu & Rehana Srinivas have written dialogues.
There were some rumors that you had to edit more than half an hour from the final copy?
No. The rough cut was around 3 hours and 15 minutes (First half was for 1:45 hours and second half was for 1:30 hours). After the final cut, we have taken out two scenes - first one is a Vennela Kishore scene (he acts as the painting buyer) for 4 minutes. second one is a Jagapathi Babu scene that lasts for 2 minutes. I came to know that the USA prints have those edited scenes.
What is the contribution of your direction team?
They get major credit for my work. The entire hospital fight (scorpion) was directed by my assistant Arjun.
How was your state of mind on the release day?
It's mostly negative talk in the morning. I was restless and depressed. I am sensitive and am vulnerable to emotions. Baapi said that you tweeted excitedly about movie. Dil Raju said that movie will run well in A centers. NTR has called me and calmed me by saying that the divide talk is expected because of the nature of the film and assured that Nannaku Prematho will eventually become a hit. Other than that, lot of people I know gave negative feedback.
People started calling after 7:30 pm when bookings were full for the second show and started giving positive feedback. VV Vinayak called me and said that he saw movie in a C center and people are liking it. He predicted that it will be a big hit. My friend Ranga also gave a positive feedback.
What is your next film as a director?
My next film is yet to be finalized. But I want to do a village-based film. I spent 30 years in my remote village. We used to have power only after 10pm in night. We used to study after 10pm in night. When Allu Arjun visited my village, he was shocked with the poor facilities. I want to do a village-based film and it will be completely different from my earlier films.
What is your next film as a producer?
I will be producing a film titled Darsakudu. I am not writing story and screenplay for that movie. It's about a film director falling in love. I am happy as a producer.
You like being a producer than a director?
Yes. I like to be a writer and producer. I want to stop direction after a couple of films. I am unable to complete scenes I write on the paper and taking it to the sets. I was guilty a lot of times with cast and crew waiting on the set. But I was roaming at the sets like a criminal without having the proper finishing for the scene I wrote. If I were independent writer, I would write well. I have also told my wife that I will stop directing films after some time.