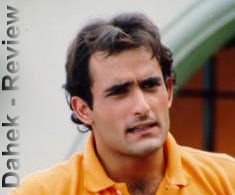 Dahek
Cast: Akshaye Khanna, Sonali Bendre,Danny
Producer: Milan Jhaveri
Director: Lateef Binny
Music: Anand Milind, Aadesh Shrivastava
Sapna.Chhaya's Rating: 2.5/5
Theatrical Release Date: December 17,1999
The movie starts when Nilima Bakshi (Sonali Bendre..Muslim Girl) and Sameer "Prince"(Akshaye Khanna..A Hindu Boy) fall in the love at first sight in the post office and then after a few more chance meetings their love blossoms. Nilima comes from the orthodox Muslim family, with uncle Jabbar (Danny) who has just returned from jail after suffering punishment for killing her aunt Sabeena (also Sonali) and a guy she ran away with against family wishes (Danny killed the brother-in-law and Sabeena killed herself). So in short it was typical family where it is shown how dare they go against his ideals and morals and all the standard bakwaas? The other Family members are strict daddy Javed, a decent, samajhdaar uncle named Naseem, and a loving kind grandmother and so on. It was the standard "you must obey me to live..." dialogue bakwaas, hence, Nilima is under a lot of stress. Prince has a sweet mother (Anjana Mumtaz) and a good father Roshanlal (Dalip Tahil).

After some meetings and singing and dancing, Nilima and Prince figure out each other's religion, and try to break it off. They cannot do it, for the love draws them to indulge, to fight the world together, for they cannot live apart. Jabbar wants to kill Prince and he manages to beat Prince to bits. Her family tries to marry Sonali off to a proper Muslim guy (who is also a gold-digger). At the 'nikkah', Prince arrives and takes her with him.

Nilima and Prince enjoy with each other in love while both the families are torn apart and some politicians take advantage of the situation and incite riots between Hindus and Muslims. The love affair became the biggest issue in the country and many people get killed, shops looted etc.

The family members soon realise that the "community leaders" are more interested in twisting the situation to their advantage than in helping them. How they try to get their children back forms the rest of the movie.