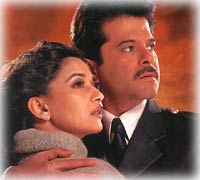 Pukar
Cast : Anil Kapoor, Madhuri Dixit, Namrata Shirodkar, Om Puri, Rohini Hattangadi, Farida Jalal, Sivaji Satam, Govind Namdev, Danny Denzongpa and a Special Appearance by Lata Mangeshkar
Music: A.R. Rahman
Director : Rajkumar Santoshi
Producer: Boney Kapoor
Released On: 4 February, 2000
Sapna.Chhaya's Rating: 3.5/5
The story of the movie revolves around Major Jai (Anil Kapoor), a army officer who gains love and respect by catching the terrorist Abhrush (Danny). Jai is attracted by Miss India -plus supermodel Pooja (Namrata Shirodhkar), but his best friend Anjali (Madhuri Dixit) also loves him a lot. When Anjali comes to know about Jai and Pooja she gets disturbed and sad and decides to win back Jai is any way. Anjali is used by one of the evil forces to take the revenge over Jai . This leads to Jai's suspension and then movie shows how Anjali feels guilt for the crime she has committed and how Jai is repositioned to his place.
Anil Kapoor has done his role in a very excellent way. His chemistry matches with Madhuri Dixit. After long time we see them togehter making us remember lovely movies like Tezaab, Beta etc. Let me confess that I am not Madhuri Dixit fan. She is perfect in her role. Her character shows all the shades of emotions from - childish obsession, to evil anger and she really fits them all. She has lost some weight and that makes her look very pretty. She is magical again in the dance sequences - "Que Sera Sera" with PrabhuDeva and the "Hai Jaana" sequence .In short she is tooo excellent. Namrata Shirodkar is wasted here. She looks pretty in song "Sunta Hai". Inspite of having quickly paced action scenes, few scenes stand out. The helicopter chase and skydiving sequences are very well done. Music is okay but the lovely scenic locations make the songs much beautiful and worthseeing. Directionwise the movie has many flaws. The scene when the army officer strips Anil Kapoor when he is courtmarshalled is very doubtful. When there is limited time to save nation and stop terrorists,there is always time to drop down and take mummy's ashirwaad! This film is not a classic film nor much better than all other Rajkumar Santoshi's film - but it is highly entertaining and quite different from the current bunch of Hindi movies.

Must see if u are Madhuri fan and want to see a good thriller. .