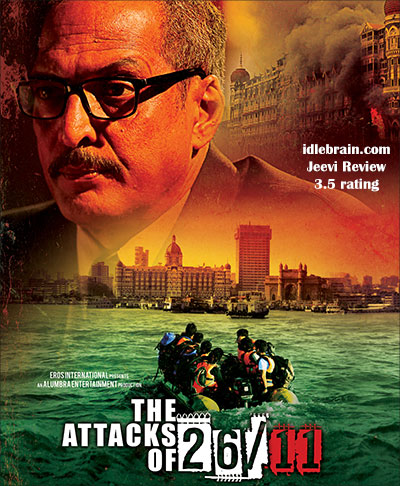 Jeevi rating: 3.5/5
Punchline: real cinema
Banner: Eros International & Alumbra Entertainment
Genre: Crime
Cast: Nana Patekar, Sanjeev Jaiswal, Atul Kulkarni, Ganesh Yadav, Saad Orhan & Ravi Kale
Cinematography: Harshraj Shroff & M. Ravichandran Thevar
Music: Amar Mohile
Editing: Sunil M Wadhwani & Ajit M. Nair
Action: Javed Eijaz
Direction: Ram Gopal Varma
Producers: Parag Sanghavi
Release date: 1 March 2013
Theater watched: Film Chamber, Hyderabad
(spoiler alert: This review might discuss a few crucial scenes you might find interesting on screen)
26/11 is one of the nights which I didn't sleep as I glued onto to TV about the ghastly attack on India. I had been reading and watching many reports on 26/11 incidents since then. I knew most of the incidents that happen, but there is no comprehensive account of what exactly happened. The main reason why I had seen the preview of this movie two days ahead of the release is to satisfy my curiosity factor about what has exactly happened.
RGV has told the story 26/11 as a narration of the top cop played by Nana Patekar. The entire film focusses mainly on the journey of Kasab from the moment he entered into a hijacked boat till the moment he was hanged in Pune's jail.
Ram Gopal Varma has touched Leopold killings, CST killings, Cama Hospital killings, Taj hotel first killing episode (reception area) and killings that happen when Kasab is captured. Nariman House episode and things happened in Taj Hotel after Kasab is captured are not covered.
Varma has retold the entire sequences of the events the way they happened. The detailing is exceptionally good.
Here are a few exceptional scenes that I loved in this movie.
1. The scene in which a foreigner peeps through door glass and just then constable throws a stone. Shocking scene with nice sound design.
2. The receptionist getting shot while she tries to save a kid in Taj Hotel.
3. Passengers hiding on the side of platforms. I don't know if it is really happened. The way it is shown is first-of-its-kind.
4. The interrogation scene where Kasab tells him about glory of being a jihad.
5. The scene in which Nana Patekar makes Kasab realize about jihadi and glory.
Here are a few observations
1. RGV has focused on deity idols in a couple sequences. Ganesh idol in boat hijacking and Lakshmi idol in Taj reception killings.
2. RGV has juxtaposed the fear in the eyes of kids with the ruthlessness of killers. He has used it effectively in three scenes (CST killing, Taj killing and killing of the man who supplied water).
3. The detailing is very good. In one scene, a cop slides after stepping on blood. In another scene, Nana Patekar tramples on after his shoelace gets untied.
The sound design of the film is exceptionally good. Cinematography is superb. I am told that Varma has used 16 different types of cameras (not 16 cameras of a type). You can see jerky movements at times and tranquil camera movements (Nana Patekar narration room scenes) in some other scenes.
Two actors in the film will walk away with honors. One is Nana Patekar for outstanding work both with voice and persona. The other guy is Sanjeev Jaiswal – a theater artist who played the role of Kasab. He matched the might of Nana Patekar with his work.
In a recent press meet, Ram Gopal Varma has said that he has done this film with fear. But, I feel that he has made this film with responsibility and this is the kind of subject he puts his heart and soul into while making. Ram Gopal Varma has been a great director since his first film Shiva. But he has made a few good films and a lot of bad films. The Attacks of 26/11 can be called as one of the good films made by Ram Gopal Varma.
Note: The violence in the film is stark and bloodshed is raw. Be prepared for it when you go to watch 'The Attacks of 26/11'.