21 June 2012
Hyderabad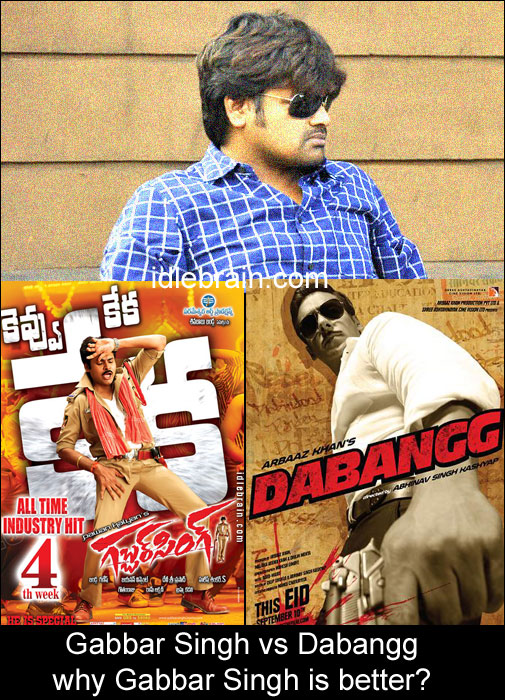 An analysis:
I did not watch Dabangg when it was released and decided not to watch it when the news of Gabbar Singh came out. My friends who watched Dabangg said it was like a south Indian film remade in Hindi and wondered why it was being remade in Telugu. The makers of Gabbar Singh sent me the first look on the announcement date with an image of Pawan Kalyan holding the belt in Gabbar Singh (of Sholay) style. The secondlook of the film was released in the 1st week of January 2012. Director Harish Shankar took personal care at all times to ensure that Gabbar Singh's publicity was reaching all forms of media and at regular intervals. He garnered feedback regularly and was pepped up at the response for the content (photos and trailers) which was fabulous.
I loved the songs when the audio was released and extremely satisfied with the visual trailers of songs released just a week before the film's release. When the movie was released on 11 May, I booked my tickets at Prasad's and managed to get my favorite F row (F row has lot of leg space as it has aisle).
As the movie began, I started falling in love with Pawan Kalyan's characterization, energy and dialogues. The songs were entertaining too. I must admit that the item song (kevvu keka) was not as good as expected since the edited version in the trailer was very slick and entertaining. Second half felt a bit incomplete as there seemed to be some lag (from the story/threads wise). But Harish Shankar's conceiving of hero character, dialogues and Pawan Kalyan's energetic performance floored the audience.
After a couple of weeks, I borrowed the DVD of Dabangg and started watching it. And I could see why I was not completely satisfied with the second half! I was in total awe of the brilliance and audacity of Harish Shankar for his conviction to re-write the entire character of Pawan Kalyan. He made doubly sure that there were no traces and mental blocks from Dabangg when he wrote script of Gabbar Singh. Gabbar Singh is made for Pawan Kalyan. That's it.
After the stupendous success of Kushi and before the release of Gabbar Singh, Pawan Kalyan has done 9 films (Jalsa is an aberration in terms of success). He has tried nine different directors. He tried 3 remakes. He worked under the direction of 4 Tamil directors (Karunakaran, Dharani, SJ Surya and Vishnu Vardhan). He came out of the spot-dubbing-syndrome which he started for Johnny film. Nothing seem to work. If an actor signs 9 films without thinking for a minute, he would at least get a couple of hits by fluke. Pawan Kalyan, an epitome of a thinking actor and a man with directorial vision couldn't achieve it for 11 years. And it took Harish Shankar, who was a student when Pawan Kalyan's last blockbuster Kushi, to come up with one of the biggest blockbusters for Pawan Kalyan in the form of Gabbar Singh.
Coming to the comparisons between Dabangg and Gabbar Singh, here are my observations:
| | | |
| --- | --- | --- |
| - | Dabangg | Gabbar Singh |
| Hero characterization | Salman Khan is given new look with mustache. His body language is used properly to extract heroism as well as comedy. But the rationality and mechanism is completely under limits. Salman Khan's character is a bit grey. | Harish Shankar completely erased the character of Salman Khan and came up with a fresh yet maverick characterization for Pawan Kalyan. He ensured that the body language and gestures of Chiranjeevi are implemented through Pawan Kalyan (especially the walking episodes - Pawan Kalyan walks in panche for pelli choopulu). There is an honesty around Pawan Kalyan's character. |
| Heroine characterization | Sonakshi Sinha is sexy | I think the director split Sonakshi Sinha into two characters. Shruti Hassan and Gayatri. He designed Shruti Hassan character as a noble women (devoid of sexiness) and designed Gayatri character for front benchers. |
| Hero introduction | Typical style with cowboy music - terrific intro dialogue about differentiating what happens when cops and decoits use their guns | Typical cowboy style not just in music, but visuals as well as the spirit |
| Heroine introduction | Hero is looking at heroine who is getting dressed. Hero gives due respect and shows concern while having conversation. | Pawan Kalyan is known for gentleness towards heroines. Hence heroine is introduced as a vendor. |
| Hero's brother character | There is a complete story for this character where he falls in love with a girl. There is a proper commercial point which is driven by this character during the climax. | The character of brother is weakened and the love thread is taken away. Hence is screen-time is very less. |
| Heroine's father character | Heroine's father character is killed. | The character is alive. And works really well for Telugu from a comedy and story stand point (marriage episode and later realization scenes). Minor yet effective. |
The best entertaining scenes of Dabangg which are not used in Gabbar Singh:
1. Salman Khan's sudden dances in between scenes.

2. The fat rowdy getting calls from his mother and girl friend.

3. I liked one commercial point in climax of Dabangg where the brother tells hero about the death of mother when hero was fighting with villain one-to-one. This sets the right tempo and gives more justification to the climax. That point is not used in Telugu as hero is shown as a noble guy (Hero steals money in the first fight in Hindi version. That becomes the bone of contention between hero and villain which leads to the death of hero's mother). Since this justification is not there for the climax, it looks little abrupt for Telugu version.
Scenes that were taken from the original Dabangg:
1. Mother's pipe scene

2. Hero bifurcating his constables as over-weight and fit.

3. Offering Rs.1000/- to whoever makes heroine smile in police station

4. Slapping episode at police station

5. The bomb episode by brother

6. Father and son scene in hospital

7. Killing villain with fumes of tractor's pipe
If you are looking for a complete cinema with everything done as per the cinematic grammar, Dabangg is the better film. But if you have to watch a movie purely for the commercial aspect and entertainment quotient, I feel that Gabbar Singh is far better than Dabangg. I derived more entertainment with Gabbar Singh. I get a feeling that Harish Shankar used Dabangg remake tag only to raise some interest during the pre-release.
The highlight of Gabbar Singh is that the makers of Dabangg 2 have paid producer to use certain hilarious scenes from Gabbar Singh to use in Dabangg 2 which speak volumes about how entertaining Gabbar Singh is.
There is one popular saying that goes like 'Form is temporary, Class is permanent' which applies aptly for Pawan Kalyan. Another hilarious quotation by fans is that 'Tikka vunnavaadiki gun ivvakoodau. Pawan Kalyan ki hit ivvakoodadu' (meaning: If Pawan Kalyan gets a hit, the records are fervently broken before one realises it). The collections are unheard of. And it shows the box office stamina Pawan Kalyan possess when he gets the right script.
Harish Shankar proved with Gabbar Singh that he is not just another mass director but a director who can make a huge difference to the commercial aspect of Telugu film industry. A director can do really well if he has writer in him. Harish Shankar scores high from a hero characterisation, dialogues, script format stand point.