March 19, 2007
Hyderabad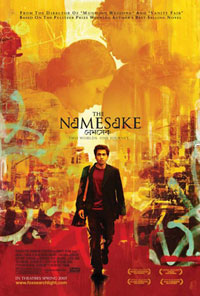 When I first read Jhumpa Lahiri's "My Two Lives" article in Newsweek (www.msnbc.msn.com/id/11569225/site/newsweek/) last year, I was drawn to her immigrant prose and rushed to Borders immediately to buy her already-popular book "The Namesake". After an overdose of desi films that made fun of ABCDs (America born confused desis), "The Namesake" book was a refreshing read that dwells on the realistic problems of the Indian-American families. When cross-cultural veteran Mira Nair decided to bring "The Namesake" to celluloid, the expectations ran naturally high among booklovers and moviegoers.
Rani Mukherjee was the original choice of Mira for Ashima role. But Rani backed out at the last minute fearing that the aging role may mar her glamour image in Bollywood. There were rumors that Abhishek Bachchan was almost considered for Gogol's role but the actor withdrew from the cast after learning about nude bedroom scenes in the script. If these gossips were true, image-conscious Abhishek and Rani would be ruing their wrong decisions for life. Tabu and Kal Penn (Kalpane Modi, who re-christened his screen name to Kal Pann) are the toast of critical acclaim in America today and the film already collected one million dollars in two weeks in the limted release this weekend.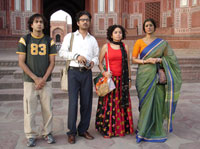 Director Mira Nair, who is fast eclipsing Satyajit Ray as the most popular Indian director in the world, returns to Ray's Bengali roots in "The Namesake". She is also back to her creative form after the disappointing "Vanity Fair" with Reese Witherspoon. It is to Mira's credit that 'The Namesake" doesn't become melodramatic. Though there is lot of scope to make it too sugary and sentimental, the director cleverly traverses the multi-generational story with modern-traditional brushstrokes. Credit is to be given to Sooni Taraporevala for her adapted screenplay that condenses more than 20 years of storyline into 2 hours. There are many wonderful moments in the film that you would cherish for years. One of them is the shoe scene during pelli choopulu: Ashima (Tabu) sees her future husband's shoes, imprinted inside with the label "Made in USA" and playfully puts them on signaling the change in store to her life.
Dialogues are witty, full of feeling and straight from the heart. During a trip to Agra, Ashima (Tabu) exclaims how much Shah Jahan loved Mumtaz to build Taj Mahal. Ashoke (Irrfan) replies, "Every husband loves a wife that much, Ashima, but they can not afford to build a Taj." While listening to her children at the dining table, Tabu says, "Sometimes when I close my eyes and listen to you, I feel like I have given birth to strangers." When Gogol (Kal Penn) asks his father (Irrfan) if he reminds of that train accident night, Irrfan replies "You remind me of everything that followed. Every day since has been a gift."
Mira Nair links New York and Calcutta not only visually but via sound as well. The film is filled with multi-cultural voices and instruments. British composer Nitin Sawhney does magic with the score using the exquisite sounds of acoustic guitar and strings. Many of his numbers including "Mo's affair", rap artiste Mykill Miers's "The Chosen One" and Argentine Federico Aubele's "Postales" are brilliantly used at the vital turning points in the proceedings.
Kal Penn is the surprise packet of the film. After showing the funny side in films like "American Desi" and "Harold and Kumar Go to White Castle", the young desi actor effortlessly slips into the skin of Gogol Ganguli character. Usually seen in rough characters (Maqbool and Sainikudu), Irrfan Khan is almost unrecognizable as the gentle Ashoke Ganguli. He has his finer moments in the film but somehow reminds you of Girish Karnad (don't know if it is makeup or the mannerisms). Australian actress Jacinda Barrett as Gogol's girl friend and Sahira Nair (daughter of Mira Nair) as Gangulis' daughter do not have much footage to impress. Zuleikha Robinson is brilliant in the complex role of Moushmi Mazumdar. Her naked back in a bedroom scene may have been unedited to establish her role as a sexually liberated woman but it will cost the film some Indian family audience. She has French dialogues also in the movie but you will be so engrossed in the film that you don't care what language the characters are talking!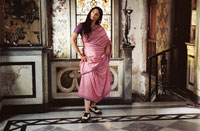 And finally the film belongs to Tabu. It is impossible to imagine any other actress as Ashima. With a minimum of dialogue, she displays the gamut of emotions. After winning the fans in South Indian films ("Kaadal desam", "Sirai Chalai", "Ninne Pelladutha" and "Kandukondain Kandukondain") and Bollywood movies ("Maachis", "Virasat", "Astitva", "Chandni Bar" and "Maqbool"), she can now woo Hollywood if she plans her career well. She got the meatiest Indian role in an English film and she utilized this opportunity to the full extent. It is sheer delight to watch this Hyderabadi's natural acting with such grace and poise. Notable scenes include
1. When she asks Irrfan if he wants her to say "I love you" like Americans and
2. Her farewell speech to American friends and family.
Her reaction to the death of a loved one in the film will go down as one of the memorable moments in English movies. Barring too many great performances in the rest of the year, Tabu may do what no other Indian actor or actress did so far -- bagging Best Actress Oscar nomination!
Just when the film is over and the closing credits start rolling on the screen, Susheela Raman's "The Same Song" plays in the background with lyrics like
Behind me the bridges have crumbled / No question of return
Nowhere to go but the horizon / Where then will I call my home?
The vocals are so mesmerizing that you can't stop sitting back in the chair and listen to it completely. I need to rush to Borders now to buy Ms Raman's album "Music for Crocodiles"!