30th May 2003

Balayya starts NTR Park in Araku
Balayya traveled to Araku Valley on 29th of December on the eve of NTR's birthday to inaugurate the NTR Park that is built around the statue of NTR. Incidentally, Balayya unveiled the statue of NTR in Araku on 5th December 2001 and promised that he would build a park around the statue. Balayya honored his promise on 29th of May.
Sonali Bendre with Venky
Hotshot married heroine Sonali Bendre is expected to be paired up with Victory star Venky in a film to be directed by EVV Satyanarayana. Joint producers Venkat Raju and Siva Raju who produced films like Pavitra Bandham and Pelli Chesukundam are going to produce this film. EVV directed films like Abbai Garu and Intlo Illalu Vantintlo Priyuralu with Venky in the past.
SVK's 'Athade Oka Sainyam'
SV Krishna Reddy started a home banner called SVK Films and directed a film with Jagapati Babu as hero. Neha of 'Dil' fame is paired up with Jagapati Babu in this film. Diwakar Babu provides dialogues. Prakash Raj, Suman and Seeta play vital roles. SVK provides story, screenplay and music to this film along with direction. K Achi Reddy would act as producer.
Bhargav Arts reentry
Bhargav Arts banner - which produced films like Mangammagari Manavadu, Muddula Mavayya, Muddula Krishnaiah etc - is making reentry now. They are planning a film with Prabhas as hero in the direction of Yeleti Chandra Sekhar (of Aithe fame). They also have another film lined up with Hari Krishna as hero in the direction of Samudra. They also have plans of making a film with NTR as well.
29th May 2003

Katrina Kaif as Malliswari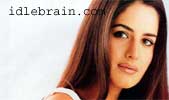 Katrina Kaif - the Bollywood actress - is selected as heroine for Vijaya Bhaskar's next film with Venky as hero in the banner of Suresh Productions. She is basically a hotshot model who is currently acting in a couple of bollywood films. While speaking to idlebrain.com. Vijaya Bhaskar confirmed the same and said that the shooting would start in June month itself in Vizag. He is waiting for the summer to get over so that the weather is pleasant. He would be canning lighter vein scenes on Katrina first to make sure that she is comfortable in acting for an unknown language like Telugu. Suresh Productions banner has run an advertisement on idlebrain.com for a beautiful NRI girl, but could not find one that suits their requirement.
Abroad jaunt for Suresh brothers
Suresh Babu - the elder brother - is in Switzerland while shooting for 'Naaku Nuvvu - Neeku Nenu' with Uday Kiran and Shriya in the main leads. Venkatesh - the younger brother - is in Europe while shooting songs for his latest flick 'Vasantham' co-starring Kalyani and Arti Agarwal. Both these units would be returning to India in the month of June 2003.
Another 'Pellam' film by SV Krishna Reddy
SV Krishna Reddy, who is riding on success with latest hit 'Pellam Voorelithe' - is selected another Pellam title 'Pellamtho Panenti' for the film starring Venu, Laya and Kalyani. This film is being produced by Jagannadha Media Arts. SV Krishna Reddy is also providing music for this film.
26th May 2003

Palanati Brahmanaidu's DTS work in Chennai
B Gopal went to Chennai on 24th of May to supervise the DTS work of Balayya's much awaited film 'Palanati Brahma Naidu'. This film is currently getting its postproduction work done in Chennai's Mahati studios. Mani Sharma is said to be taking extra precautions to do the best background music for this film. This film is due for release on 5th of May on the eve of Balayya's birthday(Balayya's Bday on 10th June). Sonali Bendra and Arti Agarwal are playing main leads. Medikonda Murali Krishna - who produced the industry's record hit Narasimha Naidu - producing this film on a high budget scale.
Dil producer's next venture with Nitin
Raju - who produced the blockbuster Dil with Nitin as hero - signed Nitin as hero for his next ventured to be directed by Raja Mouli (of Student No.1 and Simhadri fame). Incidentally Dil is the 3rd directorial venture of VV Vinayak and this film is third directorial venture of Raja Mouli. Nitin is currently working for Sambaram now. Sambaram would be releasing after 100 days of Dil. Sree Anjaneyam - Nitin's latest project with Krishna Vamsi - is going to floors on 15th of June 2003.
Anchal dies in a road mishap
Anchal - who acted in films like Uthsaaham, Modern Girl and Brahmacharulu - died in a road accident in Banjara Hills on the night of Saturday (24th May 2003) when her car bumped into the road divider. It is also learnt that her real name is Neha and her screen name is Anchal. She used to stay in King Kothi and she is also a noted model. May her soul rest in peace. (click here for photographs of Anchal in Brahmacharu)
24th May 2003

Filmfare awards party
Times of India and Taj Krishna has jointly organized the 'Film Fare Awards Party' at the newly opened 'The Deccan' at Taj Krishna hotel. Wine flowed like water in this party hall with a huge dance floor and nice amenities for party animals. The celebrities who attended this party include Venkatesh, Krishna Vamsi, Ravi Teja, RP Patnaiak, Radhika, Sarath Kumar, Ajith, Nagma, Sangeeta, Shriya, Shriya Reddy, Chandra Siddardha, Nikitha, Praksh Raj, Brahmaji, Ali, Uttej, Raja Ravindra, Aryan Rajesh, Allari Naresh, Raja, Allari Ravi Babu, Kiran Rathod, Ramya Krishna, Ajay (brother of Ali), Ramesh (who acted as Mahesh's buddy in Bobby), Nandini Reddy (Krishna Vamsi's co-director), Vishnu (Rhythm Event Management) and other socialites of Hyderabad. This function is arranged by the Times of India group on the eve of Filmfate awards that happened at Gachibowli Stadium in Hyderbad.
Rathalu song added to Nijam
The sources at Chitram Movies confirmed that Teja is planning to add 'Rathalu song', which is missing in the theatrical print is going to be added from the 6 pm show in most of the places. At the same time, 'Ilage Ilage' song is going to be deleted from the film to take care of the length problem. The lead scene featuring Mani Chandana is also going to be added along with Rathalu song in this film. Teja is said to have taken decision after seeing movie lover's rage of missing that popular song in the theater.
Okkadu 100 days function's guest list
Here are the details of Okkadu Function:
Venue: Old Andhra Cement Factory Ground, Vijayawada
Date: 5 pm, 31st May 2003
Chief Guest: Nara Chandra Babu Naidu
Honorable Guest: U Krishnam Raju
Beloved Guest: Dasari Narayana Rao
Distinguished Guests: Krishna, Vijaya Nirmala & Dr. B H Briz Kishore (Chairman - National Council of Rural Institutes Government of India
Special Guests: Prabhdeva, Uday Kiran, Prabhas, Reema Sen & Sangeeta
Double function for Valluripally films
Valluripally Ramesh who produced two consecutive hit films 'Avunu Valliddaru Istapaddaru' and Kabaddi Kabaddi has organized a joint 100 days function for these two films at Rock Gardens on the night of 24th May 2003. A specialty of this program is that the unit members felicitated K Raghavendra Rao on his birthday by opening a big champagne bottle and also by awarding him a big memento with his 100 films titled written on it. Srikanth, NTR, Venu, Rohit, Allu Arvind and Aswini Dutt graced the function as guests. Incidentally Kalyani is the heroine in both of these films and Chakri scored music.
22nd May 2003

Arti in NTR's Samba
Arti Agarwal is continuing her domination as the leading and popular actress by riding on the wave of successes and doing films only with the popular heroes. She is paired up with NTR in VV Vinayak's next venture to be produced by Kodali Naani. Chinni Krishna provides story for this film. Incidentally Arti would also be acting as heroine in B Gopal's film to be started with NTR as hero later.
Vasantham to complete talkie by 23rd May 2003
Venky's Vasantham film is going to complete the talkie part of the film by 23rd May 2003. This film has six songs out of which each song is pictured in Bangalore and Jodhpur. The unit would be moving to Europe to can two songs each on Venky & Arti and Venky & Kalyani respectively in the month of June 2003. Audio of this film is expected to be released by Aditya music in June itself. This film is slated for the release in July. Chintapally Ramana pens dialogues. Story, screenplay and direction is provided by Vikraman. SA Raj Kumar provides music
Hindi Okkadu details
Atluri Poorna Chandra Rao is on remake spree of Telugu films in Bollywood. He is recently planning to remake the Telugu blockbuster Okkadu in Hindi with Amitab Bachchan and Abhishek Bachchan in the main lead. Sada is expected to play heroine in that film. Amitab and Abhishek would play the roles of Mukesh Rushi and Mahesh Babu respectively. Popular director Raj Kumar Santoshi would direct this film on Lakshmi productions banner.
21st May 2003

Mani Sharma's music for Krishna Vamsi's film
Krishna Vamsi - while speaking to idlebrain.com - revealed that Mani Sharma is signed as music director for his film 'Sree Anjaneyam' featuring Nitin and Aditi Agarwal in the main leads. This film is going to be made on Karthikeya banner that produced the hit film 'Khadgam'. Mani Sharma has given fabulous music for Krishna Vamsi's film 'Murari' in the past.
Tagore to shoot from 5th June
Chiranjeevi has given the nod for his availability for the Manikchand's Filmfare Awards Function that is going to be held at Gachibowli Stadium on the night of 24th May 2003. As per the reliable sources, the next schedule of Tagore film would be starting from 5th June onwards. Schedule of this film had an upset, which made Chiranjeevi to travel to UK for remedy for his back pain. After listening the doctor's advice, Chiranjeevi has decided to use medicines instead of going for surgery. This film might release on 22nd of August 2003 on the eve of Chiranjeevi's birthday.
Singer Saandip turns hero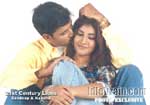 Recently singer Rajesh made his debut as hero with the film 'Ori Nee Prema Bangaram Kaanu'. Now it's the turn of another singer Sandeep (Naa Gundello fame from Nuvvu Nenu) to become hero. Kausha Rach - who performed as dancer for films with heroes like Nagarjuna, Tarun and Nitin - is making her debut as heroine. Incidentally yesteryear's heroine Vanisri also acted as dancer before becoming heroine. Shivram who worked as a cashier with Krishna Vamsi and as an assistant director for a film remake film Telugu is directing this film. 4 NRI's who made 2 Kannada hit films so far has started a banned called 21st Century Lions (in the lines of 20th Century Fox) and started this film as production no.1. The unit has done 10 days of shooting in Rajahmundry. The unit would be moving to USA on 22nd May for the 2nd schedule. This film is slated for the release on 14th August 2003.
19th May 2003

Nijam censored
The Censor Board Committee censored the film Nijam today (19th May 2003). The mono print is shown the censoring committee. This film is slated for the release on 23rd of May with 180+ prints in more than 200 theaters. This film is currently getting mixed with Dolby ER under supervision of Madhusudhan Reddy, Mixing engineer at Rama Naidu Labs. The printing would be done at Rainbow labs, RFC (Ramoji Film City).
16th May 2003

NTR's Simhadri climax in RFC
The unit of Simhadri (NTR, Bhoomika, Ankita) - which planned to shoot the climax of the film in Bangalore by using a helicopter - had to shift the base to RFC as the Bangalore authorities refused to give permission for the shoot. Audio of this film would be released on 20th of this month and the movie is slated for the release on 19th of July.
Achanta Gopinath film details
Achanta Gopinath who produced films like Top Hero, Devudu and Taarak in Telugu is making a few Tamil movies now. He has acquired the Tamil remake rights of Maharshi Cinema's 'Kabaddi Kabaddi'. He has also bought the Tamil dubbing rights of latest Telugu hit 'Aithe'.

Ramu's album for a songless film
Ram Gopal Varma has completed making his latest Bollywood flick titled 'Bhoot'. This film would not have any songs. However Ram Gopal Varma made an experiment with this film by releasing a audio album scored by Salim - Sulaiman for promotional purpose on M TV, Channel V and other premiere music channels.
15th May 2003

Aithe's audio album to be released
The audio of successful film 'Aithe' is going to be released by Surya Recording Company very soon. Surya audio company, which made waves in audio industry around 10 years back, is making a coming back with 'Aithe' album. This album would consist of the only song of 'Aithe' and dialogues of the film. More details later!
Uday Kiran in 'Cheppave Chirugaali'
Uday Kiran is currently acting in a film that is being produced by Supergood banner in the direction of a Tamil lad Arputam. Title of the film was initially fixed as 'Lovers'. The producers recently changed the title by replacing it with 'Cheppave Chirugaali', which was inspired by the popular song in blockbuster 'Okkadu'. Incidentally MS Raju registered this title and also conducted an opinion poll on idlebrain.com in December 2003 to choose one title among 'Cheppave Chiru Gaali', 'Neeku Nenemavutaanu?' and 'Iddari Madhya'. Among these three titles 'Cheppave Chirugali' got maximum number of votes. RB Chowdary has requested MS Raju to give the title to him and MS Raju obliged. Divya Khosla is acting as heroine. Vidya Sagar scores music.
Variety title for EVV's film
'Vaadanthey … Ado Type' (preminchadu .. preminchanivvadu) is the title of latest EVV Satya Narayana's film. This film is being remade from a hit Tamil film title 'Mounam Pesiyade'. Ambika Krishna is producing this film on Ambika Art Productions banner. Aryan, Anitha and Sindhu are playing main leads. The unit is moving to Egypt to can 3 songs. Yuvan Shankar Raja is providing music for this film.
13th May 2003

Simhadri audio on 20th May
The audio of NTR's latest flick 'Simhadri' would be released on 20th of May on the eve of mass star NTR's birthday. This dual function (audio release + NTR birthday) would be held in a grand style at Annapurna studios at 9 am on 20th May 2003. This movie is expected to release on 18th June 2003. Ankita and Bhumika are paired up with NTR in this film that is being directed by Raja Mouli (of Student No.1 fame).
Nijam on 23rd May
The confirmed date for the release of much awaited Mahesh Babu's flick 'Nijam' is 23rd May 2003. The duration of the film is 3 hours and 6 minutes. Due to lenth problems, the popular song 'Rathalu Rathalu' is said to have been removed from the film.
Kota in a Tamil film
Veteran artist Kota Srinivasa Rao is making his debut in Tamil film industry with a film tiled 'Sami' that is being produced by K Balachandar. Vikram and Trisha are playing main leads. Kota is playing a negative character in this film.
11th May 2003

Hero Nagarjuna to be ready by 15th June
Hero Nagarjuna is still recuperating from his knee surgery. If everything goes well, he is expected to be ready for work by 15th of June. The knee surgery caused Nagarjuna to take a break from his work for 3 months. Poori Jagan - who is directing Nagarjuna's shivamani 9848022338 - is currently working over NTR's 'Andhrawala'. Hence the release of 'Shivamani' is getting postponed by 2-3 months.
Hero Tarun's sister as heroine
Shamita - the sister of current Telugu cinema heartthrob Tarun - is acting as second heroine in Taaraka Rathnaa's 4th film as hero. Incidentally Tarun and Taaraka Rathnaa are very good friends. Taaraka Rathna is acting as factionist and Preethi Jhingiyani is acting as main female lead. Sai Krishna is directing this film that is made on Global Teleplay and Entertainments banner. Mani Sharma provides music. Paruchuri brothers pen dialogues.
9th May 2003

Praanam shoot completed
The shooting of Allari Nresh's film 'Praanam' completed today at a part set erected at Rama Naidu studios today. Speaking on the occasion, Allari Naresh said that he is playing a role of a Telugu NRI guy who comes down to the remote jungles in India to do some research work. Sada plays a village belle who falls in love with Naresh. Malli - a protégé of Krishna Vamsi - is making his debut as director with this film. Maganti Babu produces this film.
Kranthi Kumar is no more
Kranthi Kumar - the famous producer and director - expired yesterday night. He has been suffering with a decease related to kidneys for the past two years. He introduced Chiranjeevi to cinema field with his film 'Praanam Khareedu'. He turned the producer with a film titled 'Sarada'. He made his debut as director with the film 'Swathy'. He also made films like 'Sravana Meghalu', 'Sravanthi' and 'Seetaramayyagari Manavaraalu'. His last film as director was '9 nelalu'. His last film as producer was 'Preminchedi Endukamma'. He was a staunch supporter of women in his films. May his soul rest in peace.
RP Patnaik in 'Nenu - Vasanthi - Lakshmi'
RP Patnaik is testing the waters in acting field with a film titled 'Nenu - Vasanthi Lakshmi'. This film is going to be a remake of Tamil hit film 'Kaasi' in which Vikram played the role of a blind man. Recording of the songs would start from 20th June onwards. Atluri Purnachandra Rao produces this film.
8th May 2003

Live telecast is the 'in-thing'
'Live Telecast' is the in-thing now in the movie related programs on TV now. It all started with the highly successful show of 'Star Cricket' in February 2003. Following this, Gemini TV has telecasted the launch of hero Vishnu Vardhan Babu live. This time, Gemini TV is gearing up to do the live telecast of audio release of Tarun's 'Ninne Istapaddaanu' on 17th of May 2003, which is going to be celebrated at Annapurna studios. It is also reliably learnt that Gemini TV had technological backbone installed from it's head quarters to Annapurna studios to telecast future important events that are happening at Annapurna studios.
Seetayya audio on NTR B'day
Audio o Seetayya that was expected to release on 28th of April is releasing on 28th of May on the eve of NTR's birthday. The movie's release is postponed to the month of June. The unit is moving to Mauritius on 13th of May to can a duet on hero Hari Krishna and sizzling Simran. Another bit song would be canned on Hari Krishna in Hyderabad when the unit returns from abroad after 17th of this month. YVS Chowdary directs this film on his home banner 'Bommarillu'. Keeravani provides music.
Own release for Bapu Bommaki Pellanta
Appachan - the producer of 'Bapu Bommaku Pellanta' - is pretty confidant of Telugu remake film of his own Malayalam hit. He is planning to release this film on his own through Suresh Movie distributors. This film is slated for the release on 16th of this month. Ravi Raja Pinisetty directs this film. Gayatri Raghuram and Ajay Raghavendra play main leads. Koti provides music.
7th May 2003

Tarun's Ninne Istapaddaanu
'Ninne Ista Paddaanu' is the titled confirmed for the Tarun's latest flick in the banner of Durga Arts. Sridevi (of Eeswar fame) and Anitha are playing main leads. Shooting of the film is completed except for the canning of 3 songs. Audio of this film would be released on 17th of this month by Supreme Music. This film is slated for the release on 12th of June. A title starting with 'N' is purposefully kept for this film as Tarun has been found lucky to have good hits when a film titled with N and the first word referring to 'you'. His films 'Nuvve Kavali', 'Priyamaina Neeku', 'Nuvvu Leka Nenu Lenu' and 'Nuvve Nuvve' turned out to be hits. His forth coming film with AM Ratnam too has the same sentiment and is titled as 'Nee Manasu Naaku Telusu'.
Aryan in Sana Yadireddy's film
Sana Yadireddy - the lawer turned director - is casting Aryan as hero in his forth coming film. Sana Yadireddy directed films like 'Pittala Dora', 'Jai Bhajaranga Bhali', 'Bachelors' and 'Sampangi' in the past. He is currently directing the Hindi version of 'Bachelors'. The film with Aryan would start once the Hindi version of Bachelors is completed. Sana Yadireddy would make this film on his home banner.
Music director Sri makes a comeback
The forgotten music director Sri, who made splashes by scoring music for films like Money, Anaganaga Oka Roju, Sindhuram etc is making his comeback after a gap of 4 years. He is currently providing music for Kaasi starring Chakri. He is also giving music for a film starring Srikanth.
6th May 2003

Nitin confirmed for KV's film
Nitin is confirmed as the hero in Krishna Vamsi's mega project 'Sree Anjaneyam'. Hero Arjun (of Gentleman) fame would be playing a sensational role (probably that of Lord Hanuman). Aditi Agarwal, heroine of 'Gangotri' is paired up with Nitin in this film. Regular shooting of this film would start from 15th of June 2003. Tammareddy Bharadwaja who gave a blockbuster 'Anthahpuram' in the combination of Krishna Vamsi is producing this mega fantasy film!
Sravanthi film in Austria & Germany
Sravanthi Raviu Kishore's venture with Tarun and Shriya is going to be extensively shot in countries like Austria and Germany. The producer Sravanthi Ravi Kishore is going to Austria on 12th of this month to select the locations. Regular shooting of this film would start on 1st June 2003 and it would be completed in a single schedule spanning 50 days. Shooting part of the film would be over by 20th July 2003. This film is expected to release on 2nd October 2003 on the eve of Gandhi Jayanthi. Koti provides music. Ramana directs this film. Diwakar Babu pens dialogues.
Dongaramudu audio on 18th May 2003
Vamsy's 'Donga Ramudu and Party' went to countries like Netherlands, Austria, Germany and canned 3 songs on Srikanth and Laya. One of the specialties of this film is that Vamsy is using graphics for comedy scenes as well to get maximum output. Audio of this film would be released on 18th of this month!
5th May 2003

230 rolls used for Nijam
Teja has spent 40 rolls (each roll has raw film of 1000 feet length) to make his debut film as director - Chitram. Now he has canned 230 rolls for his latest film - Nijam. Teja said that he is making this kind of film for the first time. Since it needs to extract the right kind of performance from the artists, he used 230 rolls so that he could get the film to his satisfactory levels. At an average 60 - 80 rolls are used for any film. Teja opined that Mahesh Babu gave such a terrific performance in this film Nijam that his action can only match the might of Bollywood hero Sharukh Khan.
Vasantham in Hyderabad
The unit of Vasantham has returned from Bangalore after canning a solo song on Venkatesh and another song on Venky, Kalyani and Arti Agarwal. The recent schedule of Vasantham started on this Saturday. It would last till 7th of June 2003. With this schedule the film would be completed except for 2 songs, which are expected to be canned in abroad. This film is expected to become another sensational hit 'Raja' in the combination of Venkatesh and director/writer Vikraman.
Prabhudeva in 3 Telugu films
Dancing sensation Prabhudeva is having a busy time in Telugu film industry now. He is currently acting in 3 Telugu films. The 1st film is 'Oka Radha Iddaru Krishnula Pelli' in the combination of Srikanth. He is also acting in the 'Kalyana Ramudu' in the combination of Venu and Nikita. He is acting along with Vijaya Shanti for a film that recently went on to the floors!
4th May 2003

Double duty for Mahesh Babu
Prince Mahesh Babu is having a busy schedule these days. He is working for SJ Suryah's Naani film in Chennai during night and doing dubbing for his Seetaram role in Teja's Nijam film during daytime in Hyderabad. He is traveling to Hyderabad by morning flight and returning to Chennai by evening flight. There is no shortcut for success except for hardwork. And Mahesh knows it better than anybody else. With Okkadu becoming a sensational hit, Mahesh Babu is the hottest star in Telugu cinema at present.
Balayya - B Gopal's film titled as Palanaati Brahma Naidu
Palanaati Brahma Naidu is the title confirmed today by Medikonda Murali Krishna at a pressmeet arranged at RFC today. Initially the producer wanted to title this film as 'Brahma Naidu'. But Brahmanaidu has 5 letters and they wanted to have a title that has nine letters, as nine is a lucky number. Hence 'Palanaadu' is added to it. Audio of this film would be released soon. Audio rights of this film are bought for 65 lakhs by Aditya music. Balayya said that 'Brahma Naidu' is a character that is has equal considerations for each and every caste and religion. The character Balayya plays in this film has the shades of Brahma Naidu. Sonali Bendre is playing a character that has shades of 'Nayakuraalu Nagamma'. Currently the unit is canning a song on Bala Krishna, Sonali Bendre and Arti Agarwal in Ramoji Film City. The shooting would be completed by tomorrow. There is also some patchwork for 3 days left. This film is expected to release in the month of May 2003.
3rd May 2003
Chiru leaves to UK for operation
Chiranjeevi is leaving for UK to get operated on his back. His back is annoying him for a longtime. He has taken appointment with a famous doctor in UK and is expected to leave to UK on 4th of May 2003. He is expected to be back by 24th May 2003. There after he would be taking rest for a couple of weeks. He is expected to be ready for the shoot of his latest film 'Tagore' by 10th of June 2003. In the last month, Nagarjuna got operated on his knee. This month Chiru is going to be operated on his back. We wish Chiranjeevi a happy surgery and a quick recovery.
Pepsi promotes Johnny
The cola giant Pepsi is promoting Johnny film by having a unique offer. All you have to do is buy a Pepsi at selected hangouts and score three goals by putting the ball in the basket. If you could do it, you can win a free ticket to the Johnny film that is playing in that city. This offer is valid for a limited period of time.
Sumanth in Ranam
Sumanth is making a comeback after a gap of three year with a film titled 'Ranam'. Sai Kiran is also playing a main lead in this film. Richa is paired up with Sumanth. Muhurat of this film is slated at Annapurna studios on 4th of May 2003.
Tamil Producer GV dead
GV - the famous Tamil producer (GV Films that produced Tamil films like Iddaru, Anjali etc) and the brother of creative director Mani Ratnam - succumbed to death by attempting suicide. More details later!
2nd May 2003

25% of Nag's Shivamani completed
25% of the shooting of Nagarjuna's film 'Shivamani 98480 22338' is completed by now. Next schedule of the film would start in the end of May 2003. Nagarjuna has taken a break in between to get his knee surgery done. Rakshita and Asin are playing female leads in this film. Trisha - the original choice - was replaced by Rakshita. Chakri has recorded a song for this film so far.
Tarun & Shriya in Sravanthi film
Tarun and Shriya - the pair of 'Nuvve Nuvve' - are going to be repeated in Sravanthi Ravi Kishore's next venture in the direction of Ramana (of peru leni cinema fame). This film is loosely based on Hindi flick 'Tum Bin'. Sravanthi Ravi Kishore's favorite music director Koti is providing music for this film. This film is expected to go on to floors in the second half of May.
Venky's Malliswari in July
Venky's Malliswary is going to floors in the month of July. This delay in starting of the film is attributed towards delay in finding the suitable heroine. Vijaya Bhaskar directs this flick. Trivikram does story and screenplay. Venky is currently busy working for Vasantham now in the direction of Vikraman.
1st May 2003

Sambaram audio in Nizamabad
Audio of Nitin's latest film Sambaram under the direction of Dasarath would be released amidst fanfare at Nizamabad, the hometown of Nitin. Currently the unit is moving to Araku valley to shoot fight sequence and a song. This film is a love story that happens in the backdrop of four families in a hill station. Nitin and Nikita are playing the characters of Ravi and Geeta respectively. RP Patnaik provides music. Prasad handles camera. This film is being made on Chitram Movies banner.
Andhrawala's shoot begins
The shooting of Puri Jagannath and NTR combination film 'Andharawala' is started today at a set erected at Annapurna studios for a song on NTR and Rakshita. This film would have a schedule for a month starting from today. Two songs and few scenes would be canned during this period. Giri produces this film on 'Bharati Enterprises' banner. Chakri provides music.
2 film releases for Raja
Hero Raja would be having two of his films released with a gap of one day. Raja made his debut with 'O Chinnadana' as 2nd hero. Now he is playing main leads in Chandra Siddardha's Appudappudu and Rama Naidu's Vijayam that are going to release on 8th and 9th of May respectively. Shriya Reddy and Gajala are playing female leads in Appudappudu and Vijayam respectively.