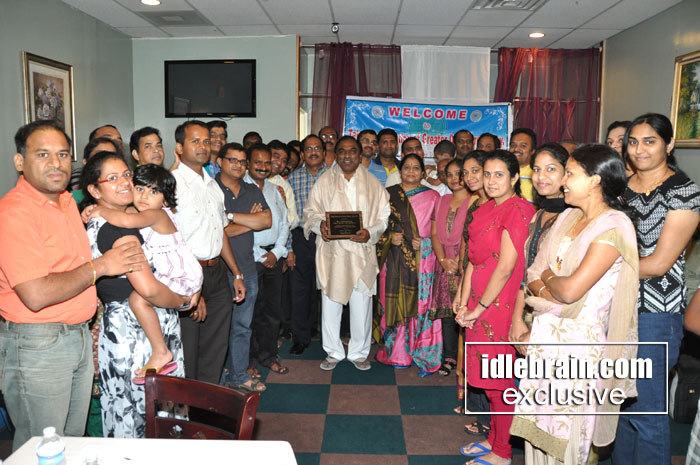 Sri C. Ramachandraiah garu, honorable minister for Endowments, Andhra Pradesh State Govt visited Philadelphia on Thursday 23rd August 2012 as part of his USA tour. Though C. Ramachandraiah is on personal visit, as per Ghazal "Maestro" Ghazal Srinivas garu's request he is also visiting temples and meeting Telugu people across USA.
TAGDV President Mr. Ravi Potluri and Executive Committee Member Kiran Kothapalli received C. Ramachandraiah and accompanied him to Mahalakshmi Temple in Hockessin, Delaware where the honorable minister welcomed by with Trustees of the Mahalakshmi Temple Mr. Sarma Patibandla and Mr. Balreddy. Temple priests performed special puja on the occasion. After the Puja, Temple management showed the temple to the minister and explained the temple activities and history of the temple.
After the visit to the temple, Philadelphia Telugu Community hosted a dinner reception in honor of Minister C. Ramachandraiah at Bawarchi Restaurant, Chesterbrook. Minister's visit is coordinated by Kiran Kothapalli; who also sponsored the dinner reception, the event was attended by more than 100 people.
Bharatiya Temple Trustee Harnath Doddapaneni introduced Sri C. Ramachandraiah and welcomed the guests and the audience. During the welcome speech, he provided a glimpse of C. Ramachandraiah's career in politics including his goals and achievements. Sri C. Ramachandraiah spoke for more than an hour on various topics related to Temples in Andhra Pradesh. He also said, as an Endowments minister, he wants to promote the Hinduism and protect the temples. He answered the questions from audience on topics ranging from NRI donations, maintenance of ancient temples, TTD Sevas etc. On this occasion, he requested all the NRIs to take active part in reconstruction of ancient temples in Andhra Pradesh.
TAGDV (Telugu Association of Greater Delaware Valley) Executive Committee felicitated Minister Sri C. Ramachandraiah with a plaque and shawl.
TAGDV Ex-President Mrs. Saroja Sagaram garu felicitated Mrs. Ramachandraiah garu with a shawl. Prominent Telugu community Leader Mr. Vijay Reddy Annappareddy (Pharma Care) also attended the event.
Prominent Telugu community members Sambaiah Kotapati, Suresh Reddy, Madhava Reddy, Sreedhar Gudala, Siva Shetty, Satish Sunkanapally, Siva Sanakkayala, Eeswar Banda, Kiran Mittapalli, Chaitanya, Deepak, Murali Inkurthi, Srini Bollepalli, Ram Danda, Narayana S Yadamreddy, Shiva Geereddy, Murthy Chavali etc attended the event.
The program for the evening was ended with a Vote of Thanks by Kiran Kothapalli; the event was a grand success due to contributions from several volunteers, who deserve an applause and recognition.