25 October 2012
Hyderabad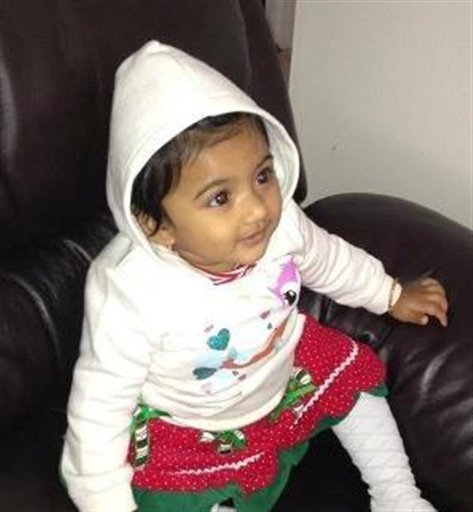 Dallas, TX: Satyavatamma, 61 yrs, native of Kudumulakuntla, Prakasam district, AP was shot dead by some unidentified assailants in King of Purssia, PA on Monday, October 22nd around 1:00 pm and abducted her 10 month old grand daughter Saavni.
Satyavathamma came to King of Prussia City in Pennsylvania just six months ago to join her son Siva Prasad Reddy and daughter-in-law Latha and look after her grand daughter Saanvi. The abductors fled with the baby girl, Saavni Venna, after killing Venna Satyavathamma at the Marquis Apartments near King Circle.
Siva Prasad Reddy Venna father of Saavni made a heartfelt plea for the return of his 10-month-old daughter. An Amber Alert was issued earlier for the abducted infant. Police authorities haven't acknowledged whether there are any persons of interest or suspects in the kidnapping of Saavni Venna and the murder of Satyavatamma. FBI and local Police department are seriously investigating the case to get any clues related to the case.
"It is shocking to hear the news and our hearts goes to the family. We express our deepest sympathies to the Venna family. TANA is arranging a Candlelight reminiscence at 6:30 PM at Upper Merion Township Building in King of Purssia City, PA and request all Telugu community members attend the event to express our sympathy and solidarity.
We thank all family and friends of Venna like Ramu Venna, Madhukar Sanikommu, Prasad Sanikommu, Madhava Reddy, Ravi Mayreddy, Dr. Raghava reddy, Hari Bungatavula, Saroja Sagaram, Mallik Budavarapu, Srinivasa reddy Emani, Sambaiah Kotapati, Subhas Reddy, Murthy Nuthalapati, Kiran Kothapalli, Bobby Yerra, Sumanth, Sudheer Raju, Anand Tondapu who are working tirelessly for the last couple of days to bring the case to the closure.
My special thanks to TANA Executive Vice President Mohan Nannapaneni, Team Square Chairman Anjaiah Chowdary Lavu, TAGDV President Ravi Potluri, TANA Treasurer Satish Vemana, TANA Team member Sailaja Adluru who are overseeing all logistics." said Prasad Thotakura, TANA President.
We have approached Indian Ambassador to USA Nirupama Rao to intervene and contact US policy makers to find the culprits without any delay. On behalf of TANA, we announce $15,000 cash prize to anyone who can get any clues related to the case". Prasad said.
If you find any clues or information about the whereabouts of Saavni or the homicide of her grandmother, please contact the Upper Merion Township Police Department at 610-265-3232.