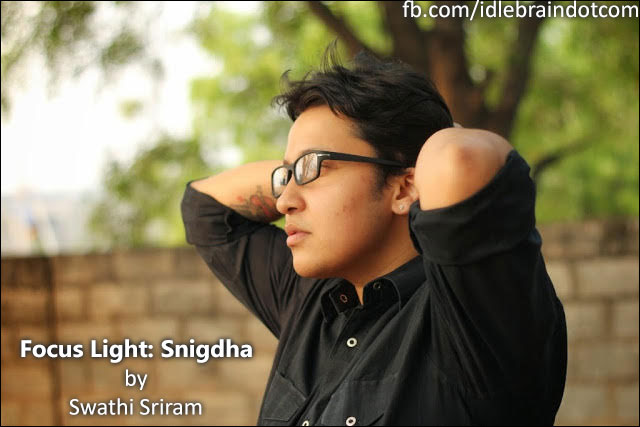 2 July 2015
Hyderabad
Focus Light is the platform to intorduce and showcase the young talent that is unseen and unheard of in Tollywood. These tinsel stars are shining in the dark. Our effort is to put light on these young talents and bring them into the galaxy of sparkles.
Looks can be deceptive. The tomboyish appearance of Snigdha; has a sweet voice hiding behind. A singer, composer and an actor, this multi-talented persona of Tollywood is here to stay. Idlebrain throws Focus Light on Snigdha of Ala Modalaindi fame and digs deep into this chirpy person's life who loves to say- YO YO.
My colorful childhood-
I was born in Rajahmundry. My father is a doctor and mother, a housewife. I come from a well-educated family of doctors and businessmen. It was quite obvious during my childhood that whenever anybody asked me what I wanted to become in the future, I replied, without hesitation, that I would be a doctor. I had a blessed childhood as my mom used to take care of me like a princess. Being the only daughter has many brighter sides. My mother, herself, was brought up very tenderly. She thought of providing me the same care. However, even under such tender and love, I was quite tomboyish. While growing up, I played galli cricket and went back home with injuries. I did my schooling in Rajahmundry and was very good at sports, dance and of course music. I still remember the very first time I sang on the stage.  Nobody had expectations that I would sing. With a nerve wrecking gut, I sang in front of several kids. I just managed it somehow.
My college-
After schooling, I wanted to pursue medicine and follow footsteps of my father. Now, I need to tell you why I have the best parents. Any father would have been happy if his son/daughter talks about engineering or medicine. Unlike other dads, mine was off beat. Being a doctor by himself, he refused me to pursue medicine. I was so upset but my father told me how he had to sacrifice his talent and how difficult it is to settle down. So, he wanted me to enjoy my life and college days and asked me to pursue arts. Thus, I joined St Theresa college in Eluru. Then finished graduation at St Anns. What I am now is because of what I learnt there. I was into singing, dance, sports and all. One of our lecturers was from Chennai School of Drama and she insisted me to join theater. I totally liked the theater and used to be in every play. That's how my graduation went. Then I pursued MBA (HR) at CR Reddy College in Eluru. I was college topper and my hunger for job made me take up a job in Chennai for three years. I am a workaholic and have been a good team player.
My journey in Hyderabad-
I moved to Hyderabad on a new job. While I was in Chennai, I used to perform in musical shows. One day, I met up with G Anand. He gave me a chance to perform my first ever program and I sang alongside SPB. I became good friends with his son Arun. Arun's friend was music director Anil. Arun called me one day when I was at work; asking me to record a song. So, I went around night after I finished my work and met up with him and sang the track for Anil. That's how I entered the movie industry through Sambhavaami yuge yuge movie. After that, music director, Raghu Kunche gave me opportunity to record some tracks. I also sang for Bharati Das and couple of other music directors. Tammareddy Bharadwaj gave me an opportunity to sing and later on host the show- Okkare. So, I started getting a foothold in the industry slowly.
Music direction- 
I received a call to sing a song for the movie Allam Velluli. I heard the tunes and I suggested some changes in them. Then I was asked if I could compose music for that movie. Thus, I became a music director and composed 6 songs for the movie. Since I was in touch with all the singers from Okkare show, I could use their talent. Music composing is a different world. I thoroughly enjoyed composing music for the movie Allam Velluli. Unfortunately, the movie was never released and my music was unheard. Later on, I composed for the film Rushi. My work for Rushi brought me good name and the music was launched by Kamal Hassan. My friends still call me up to tell me that my songs are being played on TV. It brings a smile on my face.
My first chance in movies-
Kalyani malik called me for a song and I went and sang. After 2 days, I was called to the office where in I bumped into Damu, Nandini and Nani. I was pleasantly surprised to see Nandini, as resembled me a lot. She asked me if I would act as I fit for the role perfectly. I thought -why not. The moment I stepped on the sets, the atmosphere was so natural. We completed my shoot in 5 days. In fact, I didn't tell anyone about the movie. I thought nobody would notice me in the movie. But after the movie was released, I received immense response and I had to explain to everyone how I ended up in the movies. It was tough, but sweet.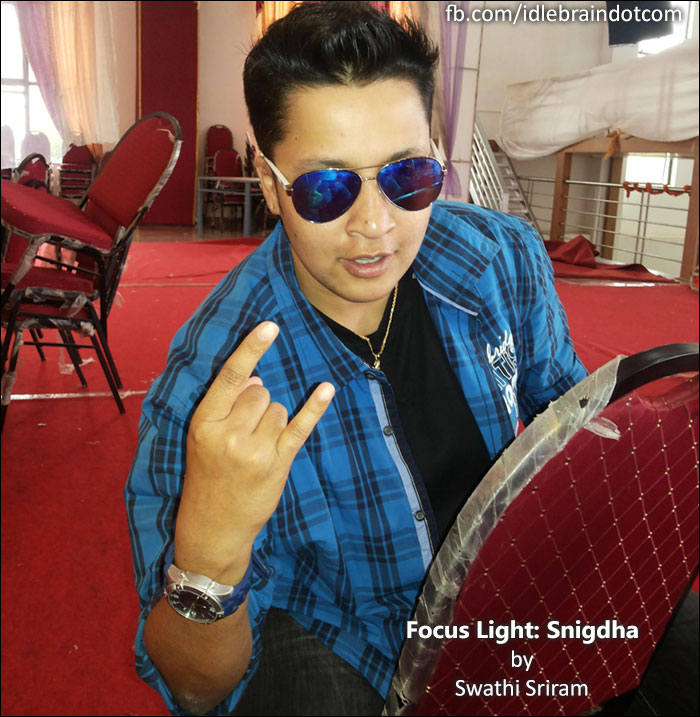 I am not a star-
So, far I have acted in almost 22 movies. But I never feel like a star. I never really got the taste of stardom. I perform musical shows too and I enjoy being among the crowds. For me, it is more of performance whether in movies or on the shows. I am very flexible with the crowds and the public. I am on social network sites and I reply to everyone. I am a very normal person and I don't care about being starry.
Even in movies, I have always performed as a friend. I never had to act till now as the roles were reflecting my personality. But Tiger movie was challenging for me where I had to cry. Maybe for the first time, I really had to act. Ala modalaindi, Memu vayasuki vachcham, Routine love story, Dammu and other movies have portrayed me as a casual and chirpy person. I must say, this year, almost all roles have been quite challenging. Right now, I have handful movies. Basti is scheduled for release in this week. Then Ketugadu, Guntur talkies, Choodamani, Urvasivo rakshasivo and some more. I am acting as a drunkard in Basti movie. In Ketugadu, I play the role of Saptagiri's wife, who is a daughter of a factionist and who leaves no stone unturned to beat up Saptagiri. In Guntur talkies, I am playing the role of a rugged gunda. So, I almost shaved my head, got a temporary tattoo over my eyebrow and for the first time, I had make up on my face. So far, my dream is to play the role of a bad cop and I am waiting to get that opportunity.
Being a woman in the industry-
In fact few people scared me that industry is a bad place for women. But I have been fortunate enough, as I was received very cordially. As long as we are good and correct, we will never get in trouble. It also depends on how we portray ourselves in the industry. I enjoy my life in Tollywood and I really get along well with the crew of all the movies.
My Family-
My parents are still in Rajahmundry. My father is Dr Jagadeesh and my mother, Rajeswari. I miss them dearly, so I make it a point to visit them every month. Sometimes they come and visit me. My parents still support me and tell me that I should pursue my passion as long as I am happy. This is my small world.
By
Swathi Sriram
Other articles in 'Focus Light:
• Anil - Bhanu
• Vijaya Bhaskar
• Vinay Varma
• Dr. Josyabhatla Sarma
• Sasikiran Narayana