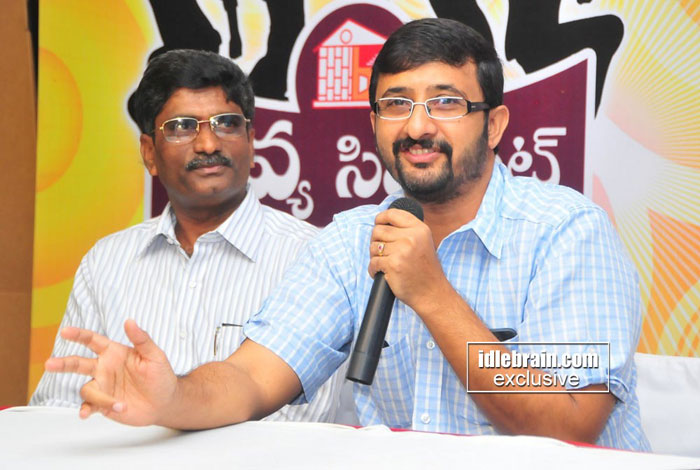 A lifetime opportunity to rise to stardom as Radio Mirchi presents 'Bhavya Cement Actor Hunt'
~ Tollywood's dynamic Director Teja to cast the winners in his upcoming venture ~

Radio Mirchi 98.3 FM, the hottest radio station of Hyderabad and an ardent ambassador of Tollywood presents a unique opportunity for movie aspirants to be part of the fantasy land of movies with its 'Bhavya Cement Actor Hunt' contest. This state wide contest is undertaken in association Bhavya Cements & Tollywood's dynamic Director Teja. So whether you are aspiring to be a hero, heroine, villain or a lyric writer, Bhavya Cement Actor Hunt will prove to be the ideal launch pad to set your foot in Tollywood.

How to apply?

1. Log on to www.radiomirchi.com/hyderabad
You need to fill the application form online and submit

2. Visit the selected Bhavya Cement Dealers in your city
Fill the application form and send it to Bhavya Cements Ltd, Post Bag number 8, Film Nagar, Jubilee Hills, Hyderabad - 500096'.

3. Direct Auditions in selected Colleges across Hyderabad, Vizag and Vijayawada

For any details on the Bhavya Cement actor Hunt you can call 5558811.

The Actor Hunt will be the flavor of the month on Radio Mirchi. It kicks off on Wednesday, July 13 and end on Monday, August 15. There are a host of special shows and contests that will air on Radio Mirchi that will inform and entertain listeners and keep the hype of the Actor Hunt alive. Exclusive interviews with the star diector Teja himself, along with many of his protegees like Gopichand, Kajal, Nitin, Uday Kiran, Anup Rubens, RP Patnaik, Navdeep etc are planned. Acting tips for amateurs, improvisation techniques, body language tips etc will be covered in a special segment on acting. A retropsect of Teja's films will be done throughout the month on Mirchi's Matinee Show with RJ Ghajini.
A special and unique opportunity is also being given to Mirchi's listeners during the month. Two contests, running in RJ Ghajini's Matinee Show form 2pm to 5pm and RJ Bhargavi's evening show – Band Bajaa from 5pm to 9pm – will pick 5 wild card entries per week each to go straight to the audition stage of the Actor Hunt with Teja – without having to apply online. All one has to do is stay tuned to Radio Mirchi during these shows and participate in the innovative on air contests.

Selected actors will get a lifetime opportunity to work with the dynamic director in his upcoming untitled film.

Teja known for his quest for new talent has directed memorable blockbusters such as Jayam, Nijam, Nuvu Nenu, Chitram etc. Some of the stars that have emerged from his contingent are Gopichand, Kajal, Reema Sen, Uday Kiran, Navadeep and Nitin. After his Debut for Raat, as a cinematographer, he continued to do more films with RGV which included Shiva, Kshana Kshanam, Rangeela etc. The film is being produced under the Bhavya Creations banner, known for producing the Gopichand starrers Wanted, Shouryam and Amaravathi.