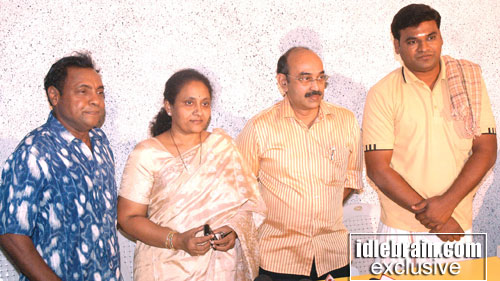 Gangaraju Gunnam who has been entertaining TV lover for the past 6 years with his hilarious comedy TV serial Amrutam has decided to put an end to it. The unit of Amrutam held a press meet to announce the same at the office of Just Yellow.
Speaking on the occasion Gangaraju Gunnam said, "Amrutam serial was started 6 years back as a weekly comedy serial. We made a courageous decision on titling the serial on men and having men dominate the serial in world where TRP ratings are directly proportional to the women quotient and sentiment in TV serials. We initially thought that it would be a 20-episode serial. But we extended it till now for 313 episodes. The newcomers who want to make a difference to TV media can take a cue from Amrutam and try different concepts. Though we faced lots of problems in the beginning, our self confidence made sure that we emerge victorious. Generally they end TV serials when TRP ratings fall. But we are ending Amrutam when it is the number one. The writing has become an exhaustive activity for Amrutam which forced us to close it. This serial was directed by 11 directors who were all newcomers."
Actor Siva Narayana said, "I acted in all episodes. I feel that actors are just carriers of information from the script writers to the audiences and we did our job well. But the credit of Amrutam should go to its chief creator Gangaraju Gunnam".
Actor Gundu Hanmantha Rao said, "There is brevity and sharpness in the dialogues of Amrutam. Amrutam's success is due to the script strength provided by Gangaraju Gunnam. I learnt a lot during Amrutam and I am that I am a better actor now. I got lot of recognition and fame due to Amrutam."
Actor Vasu Induri said, "I did the role of server in Amrutam. I started my career as assistant director to this serial and then I directed few episodes too. When one actor could not make it, I did the role of server and then onwards it became a permanent fixture in Amrutam. I learnt a lot from Gunnam Gangaraju."
Another director Gopi also expressed his happiness on this occasion.