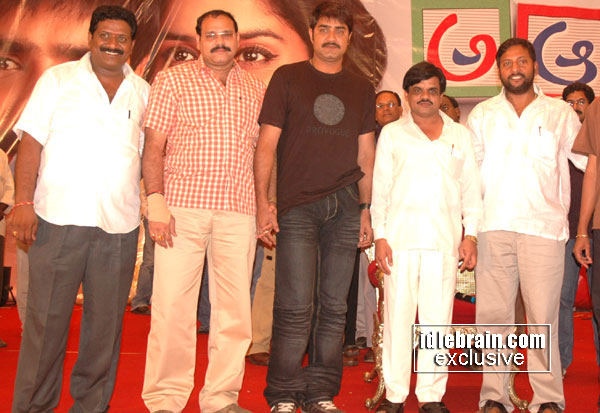 The new film of Srinivasa Reddy, repeating Srikanth-Meera Jasmine combine after Yamagola Malli Modalaindhi, is announced today with its title as – Aa Aaa Ee Eee (with caption Athanu Aame… Inthalo Yeeme). Reddy today held a media meet at RNR Auditorium, Jubilee Hills, Hyderabad. The film is made on Sri Kalpana Arts banner. Boddam Ashok Yadav is the producer. A. Sekhar is the executive producer.
Hero Srikanth, Ali, Executive editor of Surya daily Kooni Reddy Srinivasa Reddy, BA Raju, Tirupati Prakash, Kavita and others took part in the film announcement. Later, a felicitation was arranged to the film journalists.
Srikanth said: "Srinivasa Reddy is known for his gentle manners. He is a humanist, who believes in the dictum – help others rather than give sermons. I am thrilled to be working with Reddy after the success of Yamagola Malli Modalaindhi. Reddy is not only a careful director, but also he also visualizes things. He is a big believer in the storyline and its commercial treatment. Apart from this, he maintains a very cordinal relationship with all the film fraternity. By virtue of his hard work and dedicated efforts, he endeared himself to the Telugu people as a good director. I wish the entire team of this new film good luck."
Srinivasa Reddy said: "I am thankful to all those who stood by me when I was in a low profile due to series of failures in my profession. The media and my friends encouraged me a lot when I made my second inning with Adirindayya Chandram. From then onwards, there was no looking back. Till the recent BBCS, the people patronized me very much. My next film Kubherulu awaits early release. This film – Aa Aaa Ee Eee is going to be an out and out commercial entertainer with a pull towards the family crowds and comedy lovers. I also thank producer Boddam Ashok Yadav for coming forward to do this film. I profusely thank the media personnel for all their support to me all these days."
Ali said: "I knew Srinivasa Reddy from the time when I played the hero in Ashadam Pellikoduku (directed by Reddy). The title of this film – Aa Aaa Ee Eee has a close affinity with all human beings. When a man is born, he says Amma. As he grows up, he learns these letters. I wish Reddy all the best in all his endeavors."
Cast consists of Krishna Bhagwan, Brahmanandam, AVS, Jayaprakash Reddy, Venu Madhav, Sunil, MS Narayana, Chandra Mohan, Kavitha, Kovai Sarala, Hema, Apurva and others.
Crew includes: Story and dialogues – Gollapati Nageswara Rao; lyrics – Bhaskarabatla Ravikumar; Cinematography – Vijay C Kumar; Music – MM Srilekha and others.