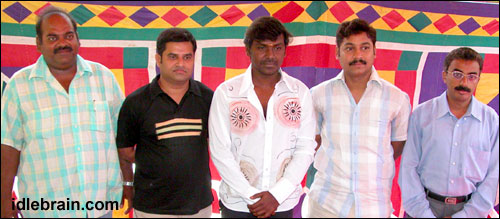 Lagadapati Sridhar who proved to be successful film producer with 'Evadigola Vadidi' film is coming up with another hot project on his banner Ramalakshmi Cine Creations. This film is named as Style. This film features the hit combination of Lawrence (Mass), Prabhudeva (NVNV), Raja (Anand) and Lagadapati Sridhar (Evadi Gola Vadidi).
I incorporated my real life struggles - Lawrence
Lawrence said that Style (mass lo class) is about determination. This film is a breezy dance musical. The character he plays in this film is influenced by his real life struggles. He liked the way Lagadapati Sridhar promotes his film and is impressed by 'Evadi Gola Vadidi' aggressive promotion. Hence, Lawrence preferred Sridhar so that he could get comfortable budget, moral support and aggressive promotion. This film would inspire youth to excel, he added. He thanked Prabhu Deva for accepting to act in this film and this film would show why Prabhu Deva is called as an India's answer to Michael Jackson. Cinematographer Kabir Lal (of Taal fame) got inspired by the subject so much that he would be working exclusively for Style film without accepting any other offers from Ugadi. Lawrence said that Mass film had little subject, but good screenplay. But Style would have both good subject and good screenplay.
A true Telugu musical after 14 years - Lagadapati Sridhar
Producer Lagadapati Sridhar said that well made musicals like Sankara Bharanam and Sagara Sangamam did extremely well in the past. After a gap of 14 years, another musical would be hitting Telugu film screen in the form of Style. This film is a musical of modern times which is being made on international standards. This film has urban backdrop with 95% of film is being shot in Hyderabad.
Style shoot from Ugadi
The regular shooting of Style would take place from Ugadi 2005 (9th April). And would be release before dasara 2005 (festival of dances).
Lyricist Kula Sekhar expressed happiness over working with a dashing producer like Lagadapati Sridhar. This film boasts of great subject. Production designer Ravi Devineni also participated in this press meet.