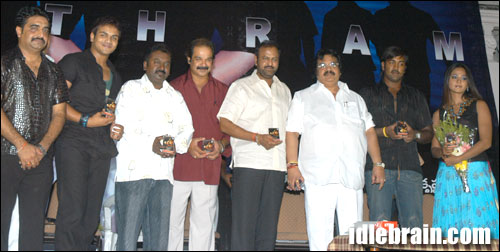 Audio of Vishnu's latest film 'Asthram' was released at a function arranged in Chiran Fort on the night of 26th May. Dasari attended this function as chief guest. The celebrities who made it to this occasion include Mohan Babu, Vishnu, Paruchuri Gopala Krishna, Anushka, Parvati Melton, Arti Puri, SA Raj Kumar, Karunya, Shibani Das, Maganti Babu, KC Sekhara Babu, C Kalyan, Additional DG Das, Bhogavally Prasad, Manoj & Sunku Ramesh. Dasari released the audio.
Vishnu will surprise everybody – Suresh Krishna
Speaking on the occasion Suresh Krishna said, "Vishnu will surprise everybody with his work in Asthram. It is a mature subject. SA Raj Kumar has given modern and trendy music. Mohan Babu saw the double positive of the film last week and gave me a big hug."
Paruchuri Gopala Krishna said that he has written dialogues for actors in the past by keeping their image in mind, but for this film he has written dialogues as per the need of the story.
Basha has the best screenplay among the films released in the last decade - Dasari
Guest Dasari said, "The unit of Asthram is closely associated to me. I inaugurated Supreme Music label. Mohan Babu is like my son. Suresh Krishna did his first stint as assistant director under me in 1979. SA Raj Kumar made his debut in Telugu with my film Niyantha. Hero Vishnu already got himself recognition as good actor. All he needs is a good hit now. Basha has the greatest screenplay (by Suresh Krishna) that has come in the past one decade along with Aaha. I am sure that Asthram will become a huge hit."
Music director SA Raj Kumar said that he followed different concept for each song.
Hero Vishnu said, "I am a great fan of Suresh Krishna and I was present during the shooting of Rayalaseema Ramanna Chowdary. I saw how Suresh Krishna extracted work from my father. Music director SA Raju Kumar worked in our banner for 'Rayudu' film eight years back."
Asthram is extraordinary – Mohan Babu
Mohan Babu said, "I am not related to this film and this is Vishnu's first outside venture. I saw this film a week back and it is extraordinary. Supreme music associated itself with our banner since Pedarayudu days. I hesitated when Supreme Raju asked for Vishnu's dates. But he completed film in fabulous style."
There will be separate tracks of the film along with the songs. The music lovers can sing on the tracks and send those cassettes by 9th June. Supreme music will give a prize to the best rendering.
Anita Chowdary anchored the event.
Asthram links
Muhurat
Press Meet
Photo Gallery