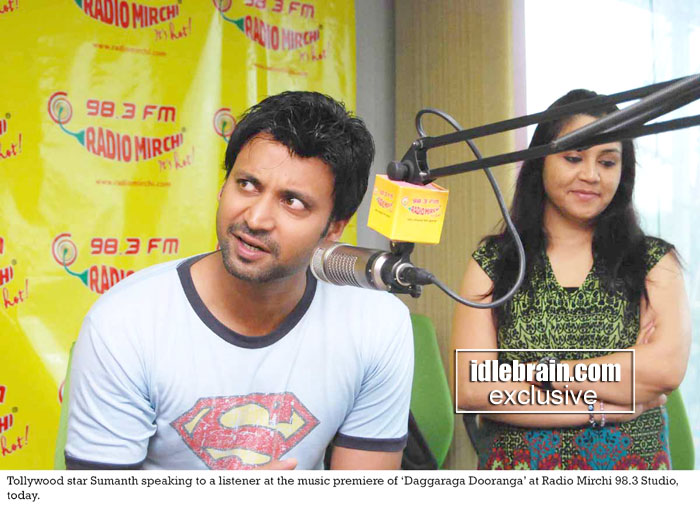 'Daggaraga Dooranga' music premiere for the first time at Radio Mirchi 98.3
~ The vibrant tollywood star Sumanth and Music Director Raghu Kunche entertain Mirchi listeners during the music debut at Mirchi studio ~

Hyderabad, August 3, 2011: Daggaraga Dooranga – the most awaited movie of the year launched its music for the first time on Radio Mirchi 98.3 FM in the presence of the vibrant star Sumanth and the mega music director Raghu Kunche. Mirchi listeners were treated to the songs of 'Daggaraga Dooranga' for the first time ever.

With the peppy music composition of the famous Raghu Kunche, Daggaraga Dooranga is all set to entertain the Telugu music lovers. Sharing his views on the music Sumanth said, "Daggaraga Dooranga has some lively songs that are sure to win the hearts of Telugu music lovers. I simply love the songs and know that the audiences will also love it".

The Mirchi music premier is an innovative platform that showcases and brings music of upcoming movies to the audiences. An exclusive to the wide mirchi listeners it releases music with a big bang.

Sharing some interesting factoids on the movie, Sumanth says 'Most love stories look alike, but each love story has different struggles. The story reflects the current day attitude and behavior of youngsters who prefer to live for the day. The movie is based on these critical aspects of life. I'm very sure the youth and families will enjoy the movie.'

The movie has been directed by Chavali Ravi Kumar and produced by J. Sambasiva Rao on Sudha Cinema banner.

Music Director Raghu Kunche also added, "The movie is very interesting and I enjoyed making the music. Sumanth and Vedika are very lively stars. It was an absolute honor to have worked with Chavali Ravi Kumar and am sure the audiences will like the way he has presented the movie. It's amazing to receive such encouraging words from the audience instantaneously! Thanks to Radio Mirchi for this fascinating experience"