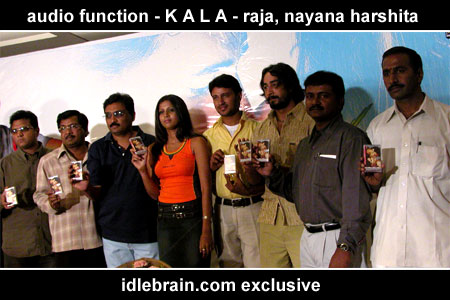 Audio of Raja's latest film KALA was released on 9th April at a function organized in Taj Residency. B Gopal and Mani Sharma were invited as guests. Supreme audio organized the event. This film launches Nayana Harshita as heroine. Dharma Teja - an assistant of Mani Sharma - is making his debut as music director. Chimmani Manohar is making his directorial debut.
B Gopal released the cassette and gave the first copy to music director Mani Sharma.
The debutant producer Y Ramachandra Reddy is said to have produced this film investing his own money. He did not depend on film financiers. Director Chimmani Manohar said that it is his dream come true to direct a Telugu film.
Hero Raja said that 'Kala' is going to re-launch him as hero as there is considerable gap after his last film Vijayam. He is expecting this film to give him a new lease of life as an actor.
Shankar handles cinematography. Santhi choreographed songs in this film. Amit is being introduced as villain through this film. Siva Reddy entertained the crowds with his mimicry. Actor Chitram Seenu and lyricist Sai Sriharsha also attended this function.