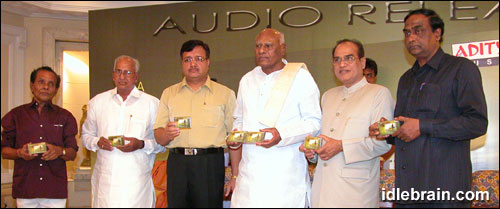 The audio of Manchukurise Velalo… was released in a function held at Grand Kakatiya in Hyderabad. The function was a very simple and was held on a small scale.
The producer R V Ramana Murthy, who produced musically rich films like Abhinandana, Neerajanam and Sri Sai Mahima in the past, spoke first and said, "First of all I would like to thank the Chief Minister for taking steps against video piracy, but he should also look in to the matters of audio piracy. Thanks to the steps he has taken small producers will flourish. The music of the film has come out well, and I am happy that my well wisher K Rosaiah, State Finance Minster, has made time to come and inaugurate the audio of the film."
After this the guest including K Rossaiah, Saripalli Kondalrao, Atluri Ramarao, A N Nageshwararao were invited on to the dais and felicitated with shawls. K Rosaiah lighted the lamp and later released the audiocassette and gave a copy to all the guests present.
Rosaiah in his speech said, "The audio of the film has come out extraordinarily well. I wish the whole team all the best. Regarding the matter of audio piracy, we shall look into it and see to it that it also is included under the punishable crime of video piracy."
The film is being directed by Ashok Kumar and the music of the film is by Ushakhanna and Kalaga Krishnamohan. The audio rights of the film are with Aditya Music.
Incidentally audio of this film is going to be released much before the start of shooting. Regular shooting of this film would start in May 2005.
- Aditya