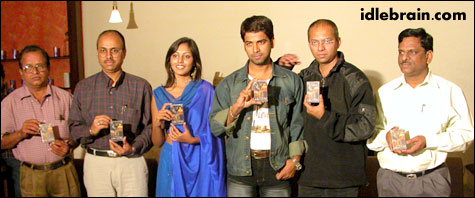 Music director Sashi Preetam (of Gulabi fame) is making his debut as Telugu film director with a film titled 'Naa Praanam Kante Ekkuva'. Dr. Neeraj (Dreams hero) and Madhu Shalini (anchor of Dance Baby Dance in Teja TV) are doing main leads in this film. This film is being produced by A & N Digital Fusion Pvt Ltd.
Audio of 'Naa Pranam Kante Ekkuva' was released on 20th January 2005 in a live program by Teja TV. A press meet was arranged on the same day at Equinox Pub to give more details.
Sashi Preetam said that every person has got certain obsession in life. For few guys the obsession is bike riding. This film is about that obsession passion by a group of youngsters. He audited more than 250 people for the main leads of the film. He selected Dr. Neeraj for the role of villain first. Then he realized that Dr. Niraj has it in him to be the hero of the film. Sashi Preetam said that he is proud to have a Telugu girl as heroine in this film. This album would have six main songs and one theme song. He is feeling happy to have made debut in direction 10 years after making debut as music director through Gulabi.
Producer Pratap said that his company A & N Digital Fusion Pvt Ltd has expertise in providing TV, film and music related solutions. They would provide consultancy in filmmaking as well.
Hero Dr. Niraj said that he made his debut in 'Dreams' film and this is his second project. This film sports amazing songs.
Heroine Madhu Shalini said that she was in the profession of anchoring, modeling and video appearance before. This is her first feature film. She is playing the role of a calm-going girl. Her character in this film would have fewer dialogues and more expressions.
Two corporate sponsors - Country Oven and Surya Elite - placed an order for 5000 CDs of 'Naa Pranamkante Ekkuva'.
More on Naa Pranamkante Ekkuva
Photo Gallery
Wall Papers