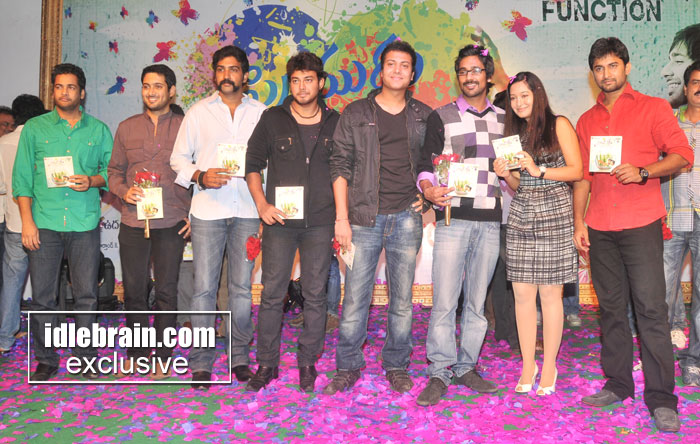 Producer Uday Kiran is producing Priyudu with Varun Sandesh, Shweta Basu Prasad and Preetika Rao in the direction of debutant director Shravan. Music launch of this film was held at Club jayabheri in Hyderabad on the night of 11 November. This function was attended by Varun Sandesh, Sukumar, Kedarinath Sharma, Uday Kiran, Chakrapani, LB Sriram, Tanish, Taraka Ratna, Marthand K Venkatesh, Sivaji, Nani and dayanand.
Nani, chakravarthy and Panduranga Rao launched the promos of the movie.
Varun Sandesh said, "Mohan has given superb music. I loved a song titled Chaitrama. I am happy till today from the release date of Happy Days. There is a good feel in the story narrated by Shravan. The title Priyudu might sound old, but the story and scenes are going to be fresh. Heroine Preetika Rao will get an award for her acting in this movie. Mohan will get a break as music director with this movie."
Producer Uday Kiran thanked Danayya for giving away the title of Priyudu. He also said that the movie and music are going to be superb.
Director Shravan said, "Real hero of this film is the music director Mohan. He will become another Mani Sharma in the future. The producer is like a God to me. I also thank all my technicians who supported me in making a good film."