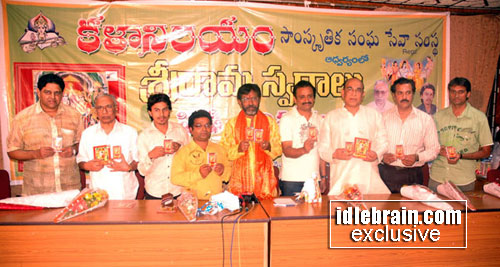 A devotional album on Lord Rama – Sri Rama Swaralu – is unveiled at Film Chamber, Hyderabad. The album was produced by Kalanilayam, a cultural and social service organization. The album consists of eight songs with lyrics penned by P. Ramachandra Murthy and music by debutant Satya, a protégé of music director Raj. Versatile actor Vijay Chander, JK Bharavi, Neelakanta, JL Srinivas and others took part in the album release.
JK Bharavi, who unveiled the album said: "Lord Rama is the property of all Indians. An album on Him is the result of its producers, music director and lyricist. I listened to all the songs and all of them are excellent. I really appreciate debut music director Satya for his extraordinary talent. All the songs inspired me. I consider myself a critic rather than a writer. He said the youth of the country should shoulder the Bakthi movement as they consist of 60 percent of the population."
Vijay Chander said: "For the last two days, I have not been well. When I was invited to be the guest at this function, I thought I should attend it. After finishing my schedule, I was waiting for my car near the Apollo hospitals. As there was delay in the arrival of the driver, I walked the distance of about four furlongs to reach the venue here. I was excited. It was Lord Rama himself who made me walk with agility. And amazingly, I feel very healthy now. I wish all the best to the producers of this album."
All the speakers observed that at a time when there is a lot of violence everywhere in the world, a bakthi movement is need of the hour. As such, this album Sri Rama Swaralu will fulfill the mission, they maintained.