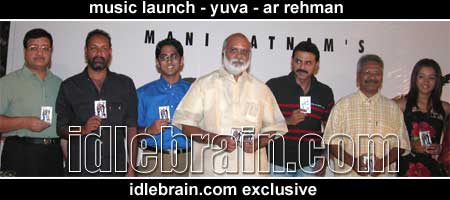 Audio of Mani Rathnam's latest film 'Yuva' was released today at a function organized at Taj Banjara hotel. K Raghavendra Rao and Venkatesh were invited as chief guests. Mani Rathnam, Siddardha (Boys hero), Trisha and Meera Jasmine attended on behalf of 'Yuva' film. The other guests who came to meet Mani Rathnam were D Suresh Babu, C Aswini Dutt, KS Rama Rao, M Shyam Prasad Reddy, KS Rama Rao, G Adiseshagiri Rao, S Gopal Reddy, KC Sekharababu, Arjuna Raju, MS Raju, Prabhu Deva, YVS Chowdary, Valluripally Ramesh, Genelia, Jaya Sudha and Jeevitha.
Madhavan, Siddardha, Surya (Kakha Kakha fame), Trisha and Meera Jasmin play the main leads in this film. AR Rehman provided music. Sunkara Madhu Murali is producing this film in Telugu on Murali Films banner. Aditya Music bought the audio rights.
Tanikella Bharani said that he was invited for an audition for 'Dalapati' film and he was rejected as his age did not suit the character which was later played by Amrish Puri.
Venkatesh and K Raghavendra Rao released the audiocassette.
Hero Siddardh said that he worked as an assistant director to Mani Rathnam before making his debut as hero in 'Boys' film. He thanked Mani Rathnam for casting him in 'Yuva'.
Trisha said that she is feeling honored and proud to be in Mani Rathnam's film. She said that the film is very brilliant.
Hero Venkatesh said that he is a big fan of Mani Rathnam and he is eagerly waiting for the release of 'Yuva'.
Director Mani Rathnam said that he wanted to make 'Yuva' without any songs. He asked AR Rehman to give a background track. After listening to the track, he felt that he should add it as a song in 'Yuva'. After that six songs were added automatically.
The organizers provided a couple of TVs at the venue so that the guests and press can view the excitement of 2nd one dayer between India and Pakistan.