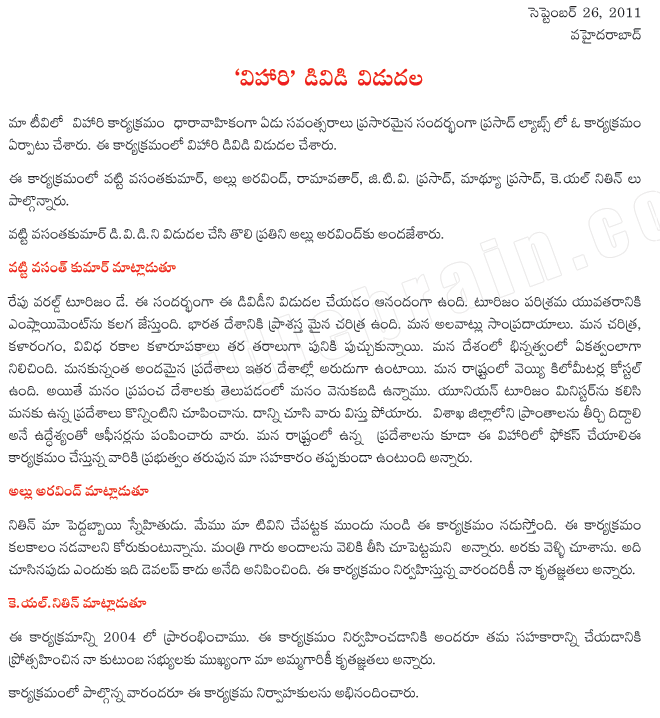 Vihari - an endless journey of discovering and traveling to new places... For the past 7 years, Vihari has been bringing the joy of traveling and soaking in new experiences to the Telugu Television audiences every week...Every Sunday has become a time for Telugu audiences to gather together as a family in front of their television to watch the ever-popular and foremost travel show in Telugu called Vihari - The Traveller. The audiences enjoy the stunning visuals of lush locales, the myriad diversity of cultures, the tempting culinary spreads, the immersive experiences of spiritual places, and fun and adventure all packed into one spectacular show which is a treat for people of all ages.
Many travel shows have come along after he launched Vihari - but none could match the content, presentation, and quality of Vihari - and they all fell by the wayside. The appeal of the show Vihari - The Traveler, remained strongly enmeshed into the hearts of the Telugu audiences, making it the number one travel program on TV - a position that it has occupied and retained since the day it was launched in Dec 2004.
Now, the same experience, which you had to wait for every Sunday can be yours at the click of a button. Vihari - The Traveller is now available as two sets of 5-DVD packs - that provides the same exhilarating experience and tons of information at your convenience and on-demand, whenever and wherever you want it - just pop in any of the 10DVDs sitback, relax and enjoy the journey!

A L Nitin Kumar, Director
A dream and Vision welded with passion, hard work and perseverance makes it a reality.
After completing his MBA, Nitin instead of treading the well worn path traveled by others, struck out on his own path... a path that allowed him not only to see the world with his own eyes, but made millions of viewers to watch and enjoy the experiences thru his travel show Vihari. While many people dream of traveling to new places, not many can go on those journeys - so Nitin's idea of a show that can bring those experiences to the living room of millions of households was born. In 2002, he setup Tripadaya Innovation and Marketing Pvt Ltd and after many months of planning, hard work and effort his dream became a reality and thus was born Vihari - The Traveller - a path-breaking show on travel and tourism which was a first in the annals of the Telugu Television history. Since then Vihari has been on Television without a break for over 7 years now and is still going strong. It is a record that has been unmatched by any other TV show

Nitin apart from producing Vihari also directed it as well. With his uncompromising attitude towards creating a quality product, he put no restrictions on the budget for the travel show, a thing unheard of for a travel show, especially considering the nascent stage that the Telugu TV industry was in back in the early 2000's. his focus and continuous oversight of all the stages of production and direction as well, ensured that the best talent was always involved with making of the travel show. Even after seven years of leading the show, Nitin still looks forward to taking the show to newer and better places - with an enthusiasm that remains as strong as the day he launched the show.

Anchor –Karuna M
Karuna has a great zeal for traveling and she ventured do to do all the daring adventure sports from Para gliding at Rotang to Rafting in Dandeli and Leh to Sky Venture in Malaysia, She is very hard working and always adjusted to the shooting Conditions she showed her nerve when we were at 17000feet in Leh she gave her shot with the same energy. She is a delight for director and cameraman has she takes hardly any time to get ready with make up. She acted in Yuva and Dr Love serials that were aired on MAA TV. During the shoot she also spared time to help the unit and never asked for any thing during the shoot .Karuna has managed to give top priority of dates for Vihari as she feels that this is the only travel show with the host in Telugu and she wanted to continue giving her best in providing such a unique content to the viewers.
Cinematographer PG Vinda
With bright academic record he decided to enter the creative field of cinematography by pursuing a professional degree from JNTU. His work for national award winning film Grahanam won laurels and he is the cinematographer for the most successful films of 2008-09 Ashta Chamma and Vinayakudu.He is bestowed with an art of cinematography and he incessantly shoots during Vihari and whenever he looks at the locales he feels "if eye was a camera he would capture everything to show it on Vihari
Director and Producer –A L Nitin Kumar