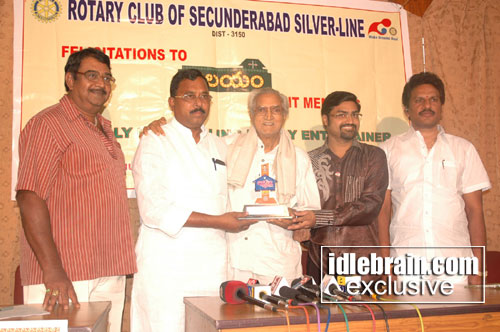 The Rotary Club of Secunderabad Silver-Line today felicitated the unit members of Alayam, a Muthyala Subbaiah directed film. Senior director KB Tilak conducted the event. Producer Anoop Chakravarthy, director Subbaiah, actress Geetanjali, Samala Venu (of Rotary Club), Congress leader Mallu Ravi and senior members of the AP Freedom Fighters Association took part in the event.
Alayam – a tribute to joint family system
Samala Venu said: "Alayam film was a gift to the Telugu people. It is a tribute to the fast disappearing joint family system. The present day children are missing some of the finest human associations like with grandparents, babais, pinnies, athhayyalu and mavayyalu. Those sweet relationships are becoming more and more artificial these days. People in the West are fascinated about Indian culture and particularly the joint family system. I visited more than 30 countries. Several people asked me – how come I am living with one wife for the last fifteen years? I told them India is like that. Even after sixty, seventy or eighty and till death, a man will have only one wife and vice versa. As this modern society is plagued by murders among family members for properties, a film like Alayam is a welcome sign. The Rotary Club is going to undertake screening of the film all over the state. Our objective is to show the film to the maximum number of audiences."
Srinivasa 35 MM is Main Theatre
Muthyala Subbaiah said: "We made Alayam to give a clean family entertainer. This film is intended to tickle the audiences about the forgotten concept of a joint family setup. Unfortunately, Alayam has no good theatres. Even the limited number of theatres provided to us is located at the outskirts, again subjected to shifting to further interior centers. Also, heavy rains had adversely affected the openings for Alayam. After talks with the exhibitors, Srinivasa 35MM at Narayanaguda is selected as the main theatre for city audience." Subbaiah deplored that most of the theatres in the city outskirts didn't have proper sound system.