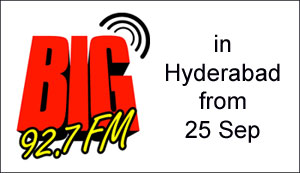 The Reliance Anil Dhirubhai Ambani Group (R-ADAG) will be launching its radio station 'BIG FM', with a common frequency of 92.7 across 45 stations on 25th September.
The first phase will cover the six metros of Delhi, Hyderabad, Bangalore, Mumbai, Kolkata and Chennai. Later, it will enter new territories such as Jammu, Srinagar, Aligarh and Bikaner.
By early next year BIG FM will be present in 1,000 towns and 50,000 villages across India and reaching 200 million Indians. With an investment of Rs 400-crore dedicated to transmission equipment, infrastructure and licensing, the proposed network for ADLABS Radio will the largest with the overall manpower strength at 1,000 employees.
The IP protocol technology being utilized for BIG FM has been sourced from AXIA, USA, making this station the first to utilize such superior gear in Asia.
Asin launches Hyderabad BIG FM
Popular south Indian film actress Asin launched the Hyderabad's BIG FM 92.7 at a function arranged in Taj Krishna hotel, Hyderabad. This BIG FM 92.7 will be available to the public from 25th September.
Here is the network of BIG FM. All the stations can be reached at a single frequency of 92.7 FM
North - 20 Cities
Chandigah, Hissar, Shimla, Ajmir, Kota, Jodhpur, Bikaner, Udaipur, Sri Nagar, Jammu, Patiala, Jalandhar, Jhansi, Bareily, Aligarh, Agra, Allahabad, Kanpur, New Delhi
East - 7 cities
Gawhati, Rourkela, Bhubaneshwar, Ranchi, Jamshedpur, Asansol, Kolkota
West - 9 cities
Panaji, Sholapur, Gwalior, Bhopal, Indore, Rajkot, Vadodara, Surat, Mumbai
South - 9 cities
Pondicherry, Tirupati, Thiruvananthapuram, Visakhapatnam, Chennai, Bangalore, Hyderabad, Mangalore & Mysore
Other FM related functions:
• Nagarjuna launches Radio City
• Chiranjeevi launches Radio Mirchi blood drive