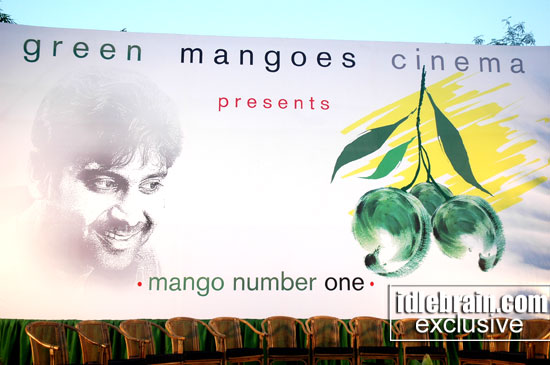 Ramana Gogula is becoming producer now. He launched his production house 'Green Mangoes Cinema' at a function held in the walden, whisper valley in Hyderabad. This function is graced by ANR, Venkatesh,K Raghavendra Rao, D Rama Naidu, Jayant C Paranji, Anita S, N Bujji, Burugupally Sivarama Krishna and L Sridhar.
Sumanth is doing male lead. Ad filmmaker Raj P is making his debut as film director with this film.
Speaking on the occasion producer Ramana Gogula said, "I became producer accidentally. Raj wanted to direct a film and met me. I referred him to many producers and I finally ended up becoming producer of the film. Raghu and Anita are strong pillars of support behind this project. I am still a music director and I will continue to score music for films. Sumanth is giving us good support. Raj is a talented , passionate and bright director."
ANR said that the banner name green mangoes offer newness and novelty.
Director Raj said, "I met Ramana Gogula two years ago for a London project. I felt like meeting a good friend. He finally decided to become a producer for me. I met Sumanth at a gym and he knew what he want. He is particular about story backdrop and budget. I would like to thank Anita for trusting a first time director like me."
Venkaetsh said, "I met Ramana Gogula 12 years back in Bangalore and he did wonderful music for my Premante Idera film. I met the director Raj at the party and am impressed with him. With Sumanth being the hero, we can expect a sincere film from this unit."
Lagadapati Sridhar said, "Mango is my favorite fruit because it gives us both health and wealth. I saw Raj's commercials and very much impressed with him."
Hero Sumanth said, "Raj has tremendous visual sense as he comes from advertising field. I wanted him to come up with a subject that has good nativity. A native subject with good technical values is going to appreciated."