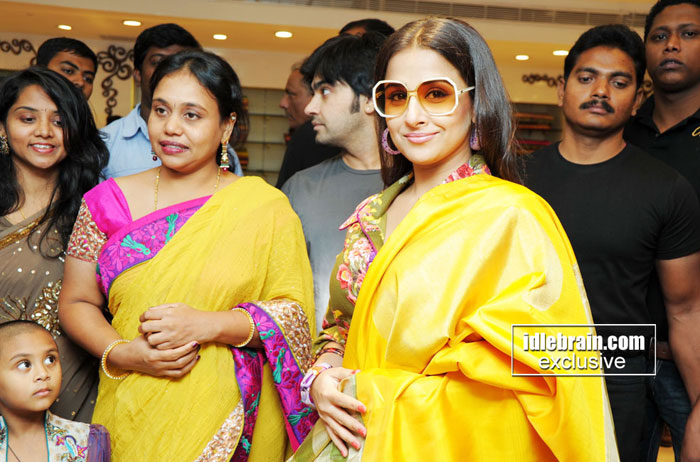 Mandir launch's its new "DIVINE WEDDING COLLECTION"
Launch by Bollywood actor Vidya Balan
Fashion, in the recent times has undergone a cosmic transformation. And the experimental strategies of designing Indian traditional attire with an essence of western appeal fueled the Industry. Delighting the women folk of Hyderabad, MANDIR a dominant player in the textile industry, even has its presence in 4th block, Jayanagar, Bangalore.

As the name suggests, MANDIR is a temple of Sarees for the woman, who wishes to add a never before aura to herself. MANDIR is the new abode for women, bringing to them exclusively created designer Sarees.

Mandir is all about a woman's desire to look heavenly. More because in our culture, women are placed in equality with Goddesses. This boutique collection and the store are dedicated to them. The Sarees here are a work of in-house designers, supported by talented weavers, who weave the magic for you. The Sarees here are unlike other designer brands as they come to you at affordable price tags. It wants every woman to feel like a Goddess.

It's an exclusive boutique for those persistent women of the city who aspire larger than life image. Its an exclusive collection of raw materials, designs, finishes, crafted for the contemporary woman who wishes to wear something unique every single time she dresses up. Its an abode for Rare & Eternal Pure Kanchivarams, Hand Picked Real Zari Kotas, Mesmerizing Uppadas, Handmade Paitnis, Heritage Rich Patolas, Pure Georgette Chiffon Party Wear, and Designer Sarees from Mumbai, Delhi, and Kolkata.

Mrs. Jhansi Chalavadi, CEO & Fashion Designer for Mandir giving her note on the occasion said, "Its a great pleasure and honor for us that Viday Balan has launched the exclusive wedding collection. The name itself states that its a divine place and the products of which are so meticulously and pristinely designed, that will meet the standards of today's woman. May it be Kanchivarams, Paitnis, Patolas, Gaghras or dress materials you can surely find a glimpse of heaven, a touch of goddess feel in every piece".

To showcase new trend for this wedding season, Mandir has come up with new and exclusive wedding theme named "DIVINE – the Exclusive Wedding Collection " which was launched today by the renowned Bollywood actor Vidya Balan. The abode of Sarees woven exclusively for the Goddesses, unveils its new collection to the city fashion lovers.

Vidya Balan, on her note on the occasion said, "The city has given her a warm welcome and always loved her and her movies and said she is looking forward for her next release Dirty Picture. On the launch of the wedding collection, she said "It feels very happy to launch the magic of the traditional designs recreating it in a contemporary style. In this ensemble each piece is finely crafted keeping only one thing in mind – to enhance the radiance of the bride.