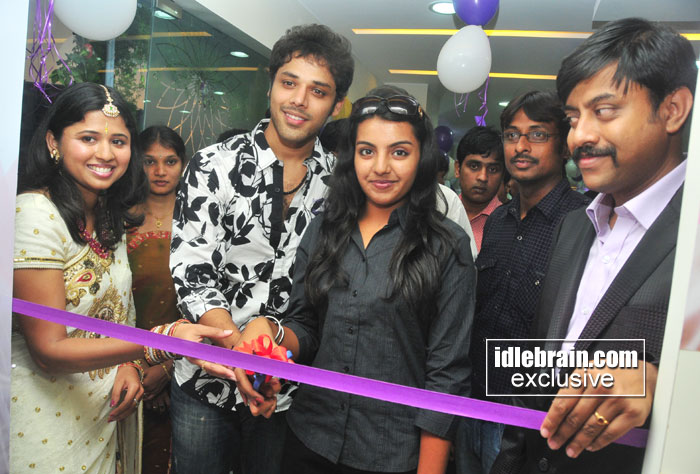 Naturals Launches Family Salon at Miyapur
· Actress Divya inaugurates the Salon
· Mr. Sagar TV Actor (MOGALIREKULU FAME)
· Colourful Fashion show followed

Hyderabad, August 2011: Naturals Family Salon, the biggest and fastest growing salon chain of India, has launched its 9th salon at Miyapur in Hyderabad. The Salon was inaugurated by Mr.Sagar ( Mogalirekulu Fame) and followed by Actress Divya (Arundhati fame), Actor Nandhu (Nenu nanna abadham movie fame) to day. A colorful fashion show with leading hyderabadi models displaying trendy hair patterns and attractive hair colors added glitz and glamour to the occasion.
"Naturals - renowned for offering alluring grooming services to celebrities and tinsel stars, will extend chic and trendy hair care, skin care and body care services' said Mr Nabin, Category Manager, Naturals salon & spa. `including hair forms and hair coloring, grooming services like embellishing bridal makeup, hair styling, manicure, facial, and reflexology treatment services" Mr Nabin said in this occasion.
"All the staffs employed are qualified and trained to handle high end beauty products like Schwarzkopf, L'Oreal for hair care. The internationally renowned June Jacobs rejuvenation facial services will be offered for the first time in this part of the city, besides making available the famed June Jacobs Spa Collection at the Naturals salon" Mr Arvind , Regional Manager, Andhra Pradesh told here.

`The 2300 sq.ft big salon has 4 facial rooms with steam shower facility, massage rooms, hair spa room, bridal , vip room etc. To provide privacy to women, the unisex salon has exclusive women zone" Ragini Aravindan , MD for naturals salon miyapur Branch.