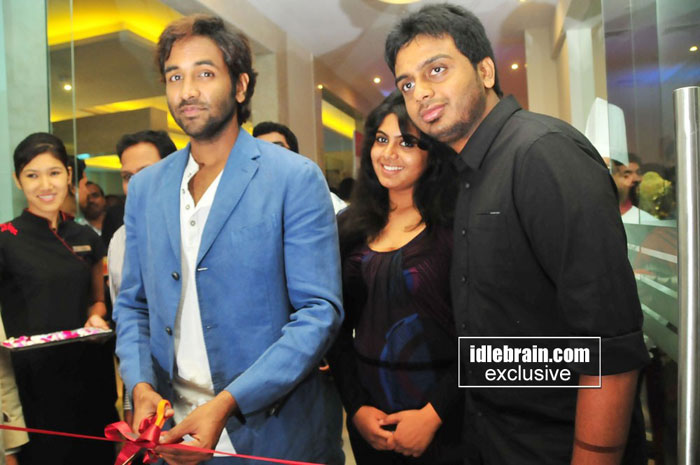 Aditya Sarovar launches "The Oriental Blossom"
Specialty Chinese Restaurant
3rd August 2011: Aditya Sarovar Premiere the upscale 5 star business hotel today launched "The Oriental Blossom" the specialty Chinese Restaurant in Hyderabad. Encompassing the cuisine from the two most prolific regions in China namely Szechwan and Cantonese the menu is perfectly designed to match the Indian palate. The main focus is to introduce tantalizing oriental food by bringing in variety of flavors and yet preserving the original recipes. Oriental Blossom promises to be superlative fare for the people of Hyderabad opening a melting pot of authentic & aromatic dishes to fill up their senses.
The Oriental Blossom with its bright interiors combined and warm ambience is a perfect place for a relaxing lunch or dinner with family or friends. The place offers an atmosphere of elegance with earthy colour suitable for the discerning connoisseur. The menu has been intelligently crafted with a careful selection of mouth-watering dishes that showcase the best of Chinese cuisine. The Menu offers a selection of soups, mouth watering appetizers, traditional noodles, fried rice and a range of stir fried and wok tossed vegetable and an array of vegetarian & non vegetarian dishes. The restaurant takes you on a culinary journey by creating flavors that leave ones palate absolutely delighted.
The restaurant is an ideal venue for corporate and business people as well. It offers an option of a private room which is a perfect venue to hold confidential business lunches or dinners. For those who prefer dining conversations over the scanning of menus the restaurant has a choice of fixed menus for selection. The place is perfect for parties & celebration too with comfortable seating and elegant styling.
Speaking on the occasion Vishnu said, "I am a genuine lover of oriental cuisine. Aditya Sarovar Premiere is the first 5 star hotel I see while returning from the airport. I Wish Oriental Blossom all the success."
Speaking on the occasion Mr. G Vivekanand Director International Marketing Manjeera Group said, "The Oriental Blossom is set up with a goal to create the best Chinese restaurant for the people of Hyderabad who explore the boundaries of creativity and look for expertise. The Oriental Blossom promises a dining experience that will truly be memorable, and wishes to carve out a niche for itself as one of the superior eating houses in the country. We at Manjeera Group are extremely delighted to open this restaurant today"
Speaking on the occasion Mr. Kiran Kumar, Director Manjeera Group said, "The Oriental Blossom is created with a refined elegance offering a relaxed cozy environment complemented with luxurious furnishing to offer an ideal venue for one's family occasions, business dinners, or to taste the ideal gourmet food. Our focus is to offer unmatched service and best quality food to our customers"
Mr. Rajesh Ranjan, Director New Properties Sarovar Group said, "We at Sarovar Group are always committed to upholding quality and delivery of highest standards. Using specifically selected ingredients and workmanship of the finest quality, we bring forth new changes and character to the Chinese cuisine. The Oriental Blossom is our signature restaurant and has been hugely successful in other markets. Our objective is to introduce the people of Hyderabad to the very soul of Oriental cooking."