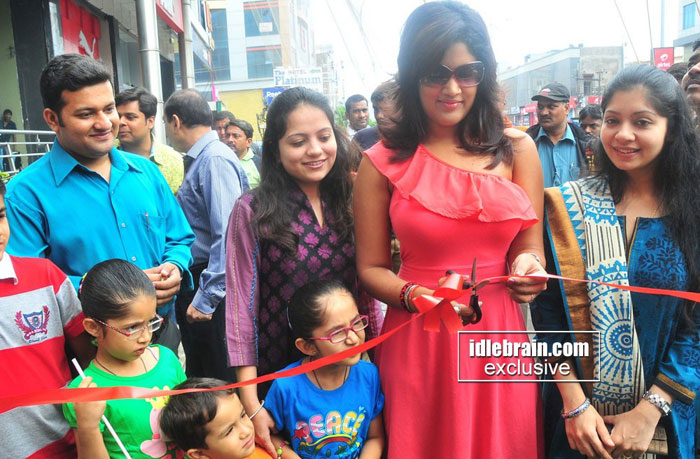 'Temptations' ice-cream outlet at Himayathnagar
Launched by tollywood actress Soumya
Hyderabad, August 27, 2011: Hyderabad-based ice-cream brand Scoops, known for its 100 per cent vegetarian ice-cream, today announced the launch of its exclusive 'Temptations' ice-cream parlour at Himayathnagar in Hyderabad. The outlet was inaugurated by Tollywood actress Soumya.
Speaking on the occasion, Ms Soumya said she always loves to relish various ice-cream flavours and never hesitates to go for those smooth and lip-smacking ice-creams. "I am delighted to know that Scoops is also offering with sugar-free and low-calorie ice-cream varieties," she said.
"Easy accessibility, relaxed ambience and friendly staff will make 'Temptations' at Himayathnagar , an ideal joint for families and friends to get together over delicious ice-cream. The store also has takeaway packages in varied quantities for the convenience of the customers," said Mr govind das , M.D for
(Scoops ), the flagship brand of M/s.Sri Srinivasa Dairy Products.
"Apart from all regular ice-creams, we would like to add value in customers' life by introducing sugar-free ice-creams for diabetic people, low-calorie ice-creams for diet-conscious people, and some different ice-creams like pan –ce-creams, Mirchi ice-creams, ice-cream mithai, ice-cream cakes, ice-cream soda pops, ice-cream sundaes and ice-cream milk shakes," Mr govind added.
`Scoops makes more than 100 flavours including fresh fruits, dry druits and chocolate-based flavours. It also makes sugar-free ice-creams for diabetic people and 95 per cent fat-free for diet-conscious people
'Temptations', to provide its customers not only quality ice-cream but also the right ambience to relax with a purpose of enriching the overall experience of enjoying ice cream. The company currently runs 12 company-owned ice-cream parlours in Hyderabad he told on this occasion.