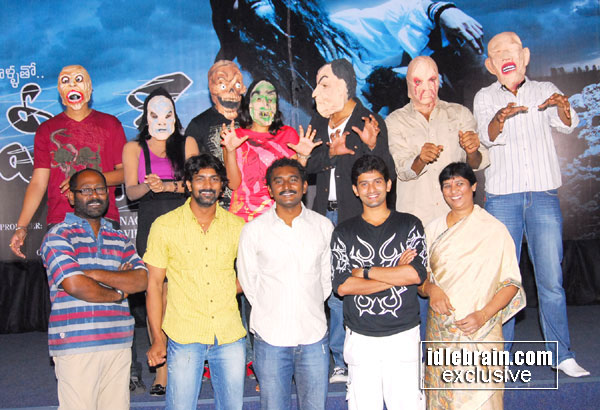 The logo of a new suspense thriller – Myaav – is today launched at Prasad Labs Preview Theatre, Hyderabad. The film is made on Ekarudra Devi Films Private Limited, with all new comers. Screenplay and direction is by Vidya. Producer is Chennupati Nagamalleswari. It stars Bushan, Vakar, Ganesh, Sri, Srini, Venkat, Jack Sparrow (Bangkok), Rachana, Gayatri, Vee(Bangkok) and Lakki (Bangkok). All the new comers attended the function wearing masks on their faces as the director wanted the faces of star cast not to be seen till the release.
Madan (Director of Gunde Jhallumandi) attended the event as the chief guest and unveiled the logo. He said: "This film's director Vidya seems to be a brilliant technician. He worked for my films Pellainka Kothalo and Gunde Jhallumandi as choreographer. I could see him most of the time moving in our circles. I don't know when he directed this film. He also played the role of Rajesh in Gunde Jhallumandi. It shows his versatility as choreographer, actor and director. Cameraman Surender Reddy is known to be well. He worked for Aa Naluguru. I wish the entire unit all the best."
Baladitya, who worked for Myav as dialogue writer said: "Other than actor, I used to compose lyrics and tunes for some films. With this film, I am making my debut as dialogue writer. In fact, when Vidya asked me I couldn't understand what he really meant me by writing dialogues. I tried my level best to give racy dialogues for this film. Cinematography by Surender would sure rock."
Vidya said: "I am thankful to my producer for entrusting me this film and making me a director. We followed a singular concept; I mean narrowness in script, characterization and presentation. This we feel to be the first of its kind in our modern days. I thank the entire star cast for their excellent performance though all of them are debutants. This is a suspense thriller. That's why we don't want to make the faces of the characters known to the audience before the release of the film. We finished the shoot and we are planning for its early release next month."
Crew: Story – Chandu; Lyrics & Dialogues – Baladitya; Editing – Nandamuri Hari; Music – Sri Suman.