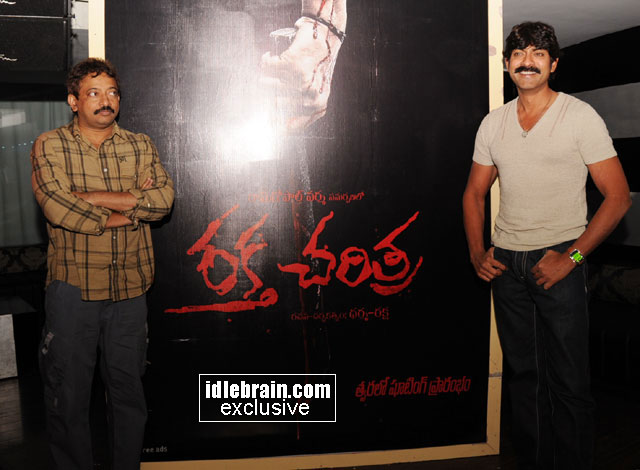 Ram Gopal Varma presented movie titled "Raktha Charitra" is today announced at Poison pub in Hyderabad. The film jointly made on One More Thought and Zed Three Pictures handles the notorious and Rayalaseema-endemic socio-political issue – Factionism. The film is jointly directed by twin-brothers Dharma and Raksha (new comers). All the characters in the film would also be debutants. Hero Jagapati Babu unveiled the logo written in red blood letters. To note here, the film assumed significance in the wake of widespread rumors and reports that RGV met a number of people connected to the factionist-background or knowledge for making a film on the slain TDP leader and factionist Paritala Ravi.
Most realistic imaginary story
Addressing the media, Ramgopal Varma said: "So far, we saw several films in the backdrop of factionism endemic to Rayalaseema region. Actually, since for a long time, I wanted to do a realistic movie on this subject on the lines of a Satya and Company. Now, I got the perfect script and people who could handle it. All the characters in the film are going to be fresh faces. Going by the subject, none should have any image. This film is based on the real incidents and real people, but it's the most realistic imaginary story. Please don't ask me about any names. The theme is that you have a lot of falsehood behind truth and truth behind falsehood. Naturally, the film will also have a political backdrop, which forms the bedrock of factionism."
Swear on God, I never met anybody
Replying to media queries, RGV said: "Just like we required Bal Thakery for Sarkar and mafia dons for Company, certainly we need some realistic character or characters for Raktha Charithra. Those who could understand the pun behind our film will truly appreciate it. It is directed by twin brothers Dharma and Raksha. The reason behind going in for new comers is that we want the audience to see each and every character in the film as they are. The individual image of any actor would spoil our efforts. The entire film will be shot in highly realistic atmosphere. I do swear on God that I never met anybody in Andhra Pradesh in connection with this film."
Straight Telugu flick next year
"My straight Telugu film will be coming soon, definitely next year, and it is a fantasy-action film," RGV maintained.