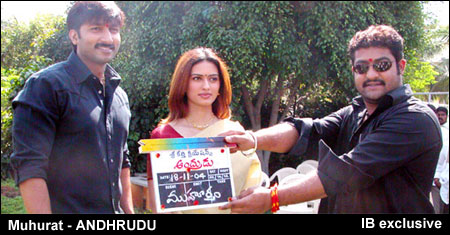 After the success of his latest film Yagnam, hero Gopichand signed another mass film 'Andhrudu'. Muhurat of this film was performed at a function arranged in Annapurna studios on the morning of 18th November 2004. ML Kumar Chowdary is producing this film and Paruchuri Murali is directing it. Model Gowri Pandit is making her debut in films with Andhrudu.
NTR sounded the clap board on the lead pair, D Suresh Babu switched on the camera and the first shot was directed by SS Rajamouli.
A film with Bihar backdrop - Paruchuri Murali
Speaking on the occasion, director Paruchuri Murali said that he directed Pedababu film, the last blockbuster delivered by Keerti Creations banner and now continuing the association with another film 'Andhrudu'. He said that the story of the film is very powerful one and it needed actor of Gopichand caliber. The publicity designs of Andhrudu complement the characterization of Gopichand. This film would have Bihar backdrop. This film also has beautiful love story and youthful message.
Thanks to Teja - Gopichand
Gopichand said that it was Teja who recommended the script to him. He is impressed with the interesting narration and screenplay by director Paruchuri Murali. This film has a good story and Gopichand is playing the role of tough guy, which suits his body language. This film is a matured love story, he added.
Andhrudu release in May 2005
ML Kumar Chowdary said that 'Andhrudu' is his 6th film as producer and is the 4th film on Keerthi Creations banner. Teja okayed the story first before narrating it to Gopichand. Chowdary said that he is confident of the potential of the story and hence would be spend a lot of money on this big budget film. Shooting of this film would start from 19th November and is expected to release in the month of May 2005.