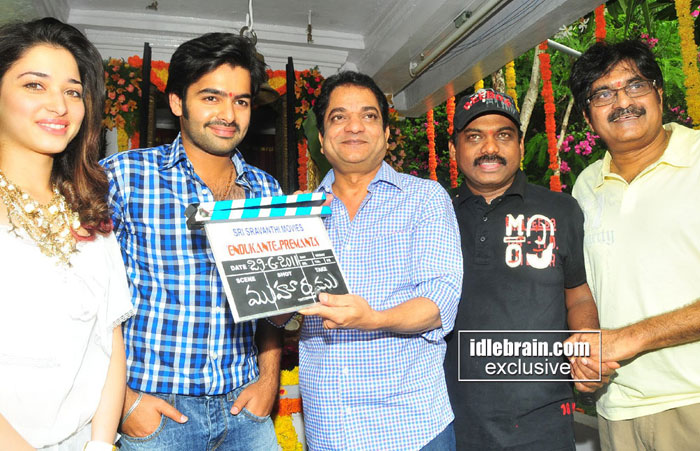 Endukante... Premata film launched
Ram's latest film Endukante Premanta was launched at a function organized in Ramanaidu studios on the morning of 29 June 2011. This film features Tamanna in female lead. GV Prakash Kumar composes music. Kona Venkat pens dialogues. Andrew handles cinematography. Karunakaran directs it and Sravanthi Ravi Kishore is the producer.
Vijaya Bhaskar sounded the clapboard, Sukumar directed the first shot and D Suresh Babu switched on the camera.
Kona Venkat said, "There are certain unexpected events between the lead pair in this movie and the reason for it turns out to be the love. That's why we titled the movie Endukante... Premanta. Karunakaran is a sensitive director. This film features the naughtiness and energy of Ram and beauty of Tamanna."
Tamanna said, "I have done a small cameo in Ram's Ready and now I am doing a full-length heroine with him. Karunakaran is very good director. I loved his film Darling and called him to appreciate him. No wonder, he is called as montage king."
Ram said, "I am a big fan of Karunakaran. This is my dream project. Music director GV Prakash is my senior in college. I am feeling lucky to have such a nice home banner."
Sravanthi Ravi Kishore said, "I have high regards for Karunakaran. I was looking forward to do the combination of Ram and Karunakaran for a long time. Karunakaran is a dedicated director. After narrating the fill story, Karunakaran has asked me for a time of 9 months to fully prepare each and every shot. I am highly impressed by his detailing and planning. This film has good story and right casting."