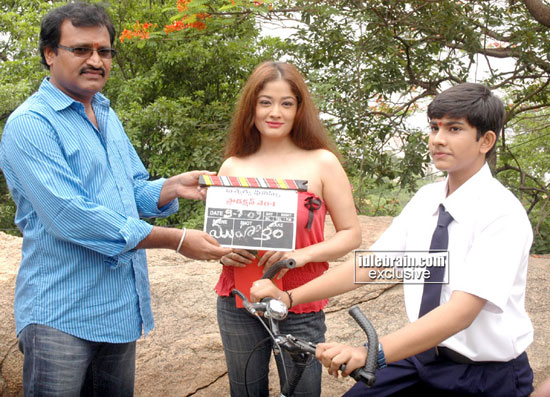 Muhruat of Kiran Rathod's latest Telugu movie was held at Annapurna studios. Baladitya switched on the camera, Harsa Vardhan sounded the clapboard and G Ram Prasad directed the first shot.
Kiran Rathod said, "This is my fourth Telugu movie and this is a heroine oriented movie. I fall in love with a younger guy. I do the role of a software engineer."
Director Narasimha Nandi said, "I directed an art film titled 1940 the village in the past. This movie is a commercial entertainer. I am inspired by an Italian film Malena (Monica Bellucci). An elder woman of 30 years age falls in love with a 13 year old boy. Regular shooting will start on 20th of July and will complete the movie in two schedules. We are planning to release the movie in September."
Karthik is doing boy's character. Mallanna produces this movie on Aishwarya Films banner.