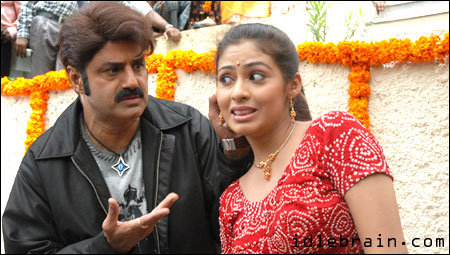 The muhurat of Bala Krishna's film in the direction of AS Ravi Kumar Chowdary on Ambika Cinema Productions banner was held at Rama Naidu studios on the morning of 25th June 2005. Bala Krishna and Sada graced the occasion.
Dasari Narayana Rao sounded the clapboard. EVV Satyanarayana switched on the camera. K Raghavendra Rao directed the first shot.
Shooting from September - Ambika Krishna
Speaking on the occasion, producer Ambika Krishna said, "Today is the happiest day in my life as producer as Bala Krishna is acting in our film. Our product Ambika Durbarbatti has been the most successful one for the past 60 years. It shows our commitment towards the consumers. Likewise, we would be making films that public appreciate. This film would remain as one of the memorable films in the annals of Telugu cinema. I gave advance to AS Ravi Kumar Chowdary during the time of Manasutho and forgotten about it as Manasutho was flopped. But it was Chowdary who remembered my encouragement and called me immediately after delivering the superhit Yagnam and reminded us about the earlier commitment we had. This shows the moral values director Ravi Kumar Chowdary has. Anjaneya Pushpanand who provided story and screenplay for Lorry Driver and Rowdy Inspector in the past is providing story and screenplay for another Bala Krishna's after a gap of 14 years. Dialogue writer Marudhuri Raja and cinematographer Vijay C Kumar are working for the first time with Bala Krishna. Shooting of this film would start in the month of September 2005 and would be shot continuously till the completion"
This film has what Bala Krishna fans want - AS Ravi Kumar Chowdary
Director AS Ravi Kumar Chowdary said, "Today is my happiest day as Bala Krishna is acting in my film. This film has huge star cast, big budget and high technical values. This film would be in a way Bala Krishna fans want it. This story is about a man who has got manliness (Magatanam) and good heart (manchitanam). This film would have emotions, action, sentiment and entertainment in proper mix."
Waited for 14 years for Bala Krishna's film - Anjaneya Pushpanand
Story writer Anjaneya Pushpanand said, "I wrote stories for films of Kannada Superstar Raj Kumar and Malayalam Superstar Prem Nassir. I worked for Bala Krishna's blockbusters Lorry Driver and Rowdy Inspector. I waited or 14 years without providing story to any other film as I always wanted to work with my favorite hero Bala Krishna."
Dialogue writer Marudhuri Raja said, "Every film is like a lesson for me and I work for every film like it is my first film. My work is easy for this film as director knows what exactly he wants."
Doing a mass character - Sada
Actress Sada said, "I am feeling lucky to work with huge star like Bala Krishna. For the first time I am doing a mass character in this film. The script of this film is amazing. The characterizations of this film would surprise you."