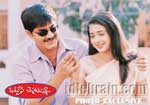 Audio function of Sri Creation film 'Ottesi Cheputunna' was organized in Rama Naidu studios at 7:45 pm on 26th March 2003. Srikanth and Sravanthi are the main leads in this film. Chiranjeevi attended as the chief guest. Other bigwigs of industry who attended this function are K Raghavendra Rao, Allu Arvind, Aswini Dutt, KL Narayana, SV Krishna Reddy, KS Rama Rao, T Trivikrama Rao, Arjuna Raju, Valluripalli Ramesh Babu, Achi Reddy, Trivikram Srinivas, C Kalyan, Sivalenka Krishna Prasad etc.
The guests who are called onto the dais were Chjiranjeevi, K Raghvendra Rao, SV Krishna Reddy, Allu Arvind, Aswini Dutt and Uday Kiran. Suma anchored the event. Suma referred Uday Kiran as 'Hrudaya Kiran' while inviting him on the dais.
Speaking on the occasion, music director Vidya Sagar opined that he did his best work for this film. He also has seen the rushes and opined that this film would become a big hit.
Anchor Suma asked the cast and crew of the film to say something with promise (Ottesi Chepunna!). Here are the responses from the 5 participants.
1. Srikanth - 'Big brother Chiranjeevi is the Megastar forever' (Ippatiki Eppatiki Annayya Chiranjeeve Megastar)
2. Sivaji - 'Ottesi Cheputunna songs are going to be as good as Pelli Sandadi songs'
3. Sunil - 'Ottesi Cheputuna film is super hit'
4. E Sathi Babu (Director) - 'Thanks to everyone who came for audio function'
5. Vidya Sagar (Music Director) - 'The world is going through a turmoil of violence (referring to the US - Iraq war). Music has healing power. Let music play a vital role in peace development'
Speaking on the occasion Chiranjeevi said that parameter for the success of any hero is neither the amount he is taking as remuneration nor the number movies he is acting in. But the real parameter for the popularity of any star is number of successes and the magnitude of the success he gets. Chiranjeevi said that Srikanth played two characters of different dimension in Khadgam and Pellam Voorelithe respectively. Chiranjeevi gave a chance to Vidya Sagar to score music for his film 'Mugguru Monagallu' in the direction of K Raghavendra Rao. The songs of that film became hit. Chiranjeevi also said that Uday Kiran, a few minutes back, told him that Viday Sagar gave this film as good songs as he gave for Mugguru Monagallu. Chiranjeevi remembered that director E Sathibabu worked as an associate for a couple of films in which he acted as hero and wished him a great future. He also wished Anil a great deal of success through this film.
Chiranjeevi released the cassette and gave away to others on dais.