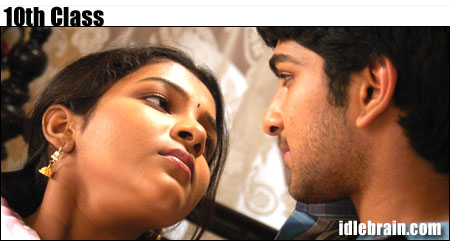 SP Entertainments that produced films like Swayamvaram and Chirunavvutho is currently producing a film titled 10th Class. This film introduces director Chandu. Here are the details of press meet held today -
Producer PV Shyam Prasad said, "We are introducing a talented technician Chandu as director through this film. Saranya who did the role of heroine's friend in Premiste is making her debut as heroine with this film. Shooting of 5 songs and 70% of the talkie is completed. The remaining portion of the film would be completed a schedule of 20 days duration. There would be 8 songs in the film scored by Mickey J Mayer. Nixon composed steps for all songs. We are planning to release the audio in the 3rd week of December and the film in the month of January 2006."
Debutant director Chandu said, "I would like to thank producer PV Shyam Prasad for introducing me as director. He also gave lot of freedom. We are introducing 40 artists through this film. The new artists acted like experiences ones. Though there is lots of love and romance in the film, there is also certain message attached to it. All the songs in this film are going to be situational ones."
Music director Mickey J Mayer said, "This film has a catchy title. I made my debut as music director with Tammareddy Bharadwaja's Pothe Poni which is due for release in December. It is a challenging talk to score 8 different tunes. The college-going youth are going to identify themselves with this film."
Choreographer Nixon and hero Bharat also spoke during this press meet.
10th Class Links:
Photo Gallery