Vaishno Academy
143
and i miss you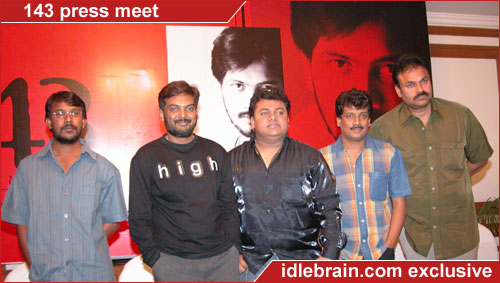 Cast: Sairam Shankar, Samiksha, Flora, Pooja, Nagendra babu, Ramaraju, Chitti, Chaitanya, Anandraju, Brahmanandam, MS Narayana, Ali, Dharmavarapu Subramanyam, Kondavalasa lakshman Rao, Venu Madhav, Gowtam Raj, Satyaprakash, Brahmaji, Bharath, Uttej, Ganesh, Srinivasa Reddy, Bombay Raj, Hema, Rajitha, Uma & Sobharani
Music: Chakri
Cinematography: Shyam K Naidu
Art: Chinna
Fights: Ram Lakshman
Editing: Marthand K Venkatesh
Choreography: Pradeep Anthony, KV Krishna Reddy
Executive Producers: Krishna & P Umashankar Ganesh
Story - screenplay - dialogues - direction - Producer: Puri Jagannadh
Sairam Shankar - brother of hotshot director Puri Jagan - is being introduced as hero with a film titled 143. Sairam Shankar has been working as assistant director for Puri Jagan's films for a long time. He also acted as one of buddies of Ravi Teja in Idiot flick. A pressmeet has been arranged by Vaishno Academy to express the progress of 143.
The shooting of this film was started in April 2004 and is completed on 17th July. Editing is completed. Rerecording has started just now. Audio of 143 is expected in the last week of July. This film would be released in the month of August.
Director Puri Jagan said that 143 is a love thriller with police-naxalite backdrop. This film is about a love couple caught in the conflict between police and naxalites in forest. Hero Sairam Shankar is playing the role of college student. Samiksha is making her debut as heroine. Nagababu acted as DCP in a brief guest role. Asha Saini has rechristened her name to Flora (original name) and acting in this film.
Music director Chakri said that this film has six tunes - 3 mass tunes and 3 melodies - penned by Chandrabose, Kandikonda and Bhaskarabhatla Ravi Kumar. Actor Nagababu said that the climax of the film is going to be highlight and Sairam Shankar performed with ease. Actor Uttej said that the storyline of the film is impressive and would create 4 times more impact than that of 'Idiot' film.