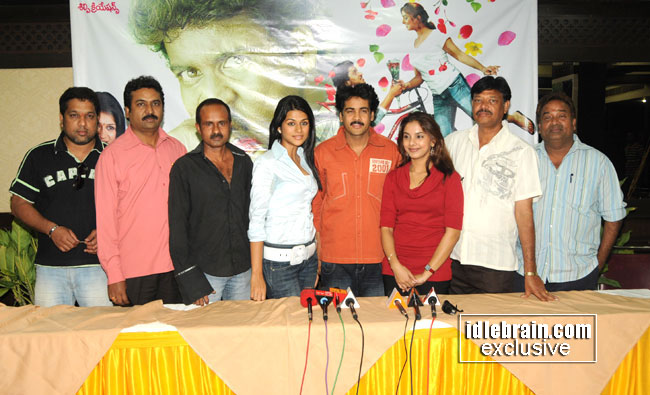 Press meet of 18,20 Love Story was conducted at Hampi restaurant in Jubilee Hills on the evening of 21 February. Sivaji, Shraddha Das and Rinil Routh attended this meet.
Actor Sivaji said, "This film is the love story between an 18 year old girl and 20 year old boy. I am doing a vital character of Bullanna in this film. Bullanna is a small time settlement guy in old city. I am doing a complete Telangana character with Nizam slang for the first time. Radha Krishna who directed Chiranjeevulu in the past is directing this film. This film will release in the second week of March."
Actress Sraddha Das said, "I am doing the role of an orphan girl who runs an orphanage. It is a good role. I am doing nice roles in Mantra 2, Arya 2 and Adhineta films as well. The 18 year old teen girl role is donned by the new actress Rinil Routh who is also a Bengali. I am thankful to the producers and the director."
Debutant actress Rinil Routh said, "I would like to thank the director who cast me in this film. This is my first Telugu film. I am doing the role of a teenage girl Roopini. I am a professional dancer and did my acting course in New York. I would like to thank Sivaji for mentoring me on the sets."
Producer Nageswara Rao said, "This is our first film. Director and Sivaji are my friends for a long time. We are going to launch audio in the next week and movie in the next month."
Director Radha Krishna said that this film is a teen love story. Manoj is doing the role of 20 year old boy in this film.