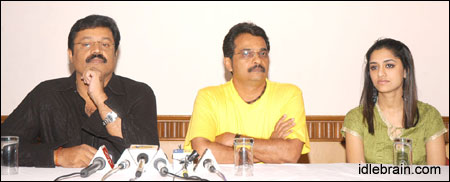 National awad winning director Jayaraj is going to direct a film titled Adbhutham that deals with euthanasia (mercy killing). This entire film would be shot in 5 continuous hours. Jayaraj arranged a press meet on this eve. Suresh Gopi and Mamatha Mohan Das were also present. Here are the excerpts -
Director Jayaraj said, "This film deals with the controversial subject of Euthanasia (mercy killing). This film is about the last one and half an hour of a patient's life who is going to undergo mercy killing. We would start the shoot at 10 am on 18th of December and complete entire shooting with in 5 continuous hours. Oregon Stage of USA is the only place where mercy killing is legal. Hence we took the backdrop of the film as Oregon State. Ramoji Film City is providing excellent facilities for this film. I visited Oregon State to study about euthanasia a couple of years back. Suresh Gopi dons the challenging role of patient. Mamatha Mohandas is playing the role of hero's wife. There would be lots of foreign artists in the film. I am aiming this film for Cannes Film Festival."
Hero Suresh Gopi said, "We are targeting world market with this film. Subject of euthanasia is a universally relevant one. Playing the role of patient who is going to die in 1 and half hour is very challenging one. I need to go through serious of complex emotions when I meet different people. We are going to shoot the film in five consecutive hours because these intense emotions have time track attached to them. I will have to imagine and fantasize the state of mind of the patient in order to perform the role. Currently we are doing rehearsals for the film in RFC."
Heroine Mamatha Mohan Das said, "This is my 3rd film as an actress. I was paired up with Mammootty for my 2nd film. I am feeling excited to work with an accomplished actor like Suresh Gopi in my 3rd film."
Adbhutam links
Announcement