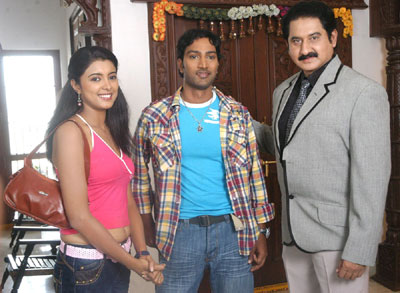 Shoot of Adugu, the movie starring Suman in a key role, is under fast progress and will be finished in the second week of July. It is planned to release by August end. Made on Madhavi Art Productions, it has debutants Samarendra and Richa Sony playing the lovers. Screenplay and Direction is by debutante Veeraprasad Neelam. Producer is Bommakanti Madhavi. Jeevan Thomas scores music. The unit members today arranged a media briefing at Chatrapati House, Jubilee Hills, Hyderabad.
Dad-son sentiment, stunts and love story
Suman said: "The film is completely a family-oriented entertainer. Primarily it deals with the father-son relationship. Misunderstandings crop up between them and it takes a worst turn. Besides, there is a emotional love subject between debutants. These two elements hand in glove with the subject is dealt with skill by debutant director. Comedy is another major area. When I was in Chennai, the subject outline was told to me. When they sought nearly a 25-day call sheet, I asked them to completely narrate the subject. I felt interested on listening to the script. I also have stunts in the film. Director has perfectly planning the script and its execution too. Cameraman Sudhakar Reddy is a senior technician and he worked in more than 15 films of mine. The unit is not in a hurry to wrap up the shoot, but is progressing well to the multi-dimensional requirements of the subject. It is a welcome gesture that new directors and producers are coming to the film industry."
Anchor Jhansi as dumb housemaid
Anchor Jhansi, who plays the role of a dumb housemaid in the film, said: "I liked the role which I am doing in this film. There is scope for display of varied talent in my characterization."
Director Veeraprasad Neelam said: "Every care is taken to chisel the movie with full entertainment – from the first frame to the Subham card. I thank producer Madhavi for giving me an opportunity to become a director. Suman is a big asset to our film. Jeevan Thomas scored excellent beats. It will bring big break to all the artistes and technicians as well."
Debut hero Samarendra said: "I am a new comer. But thanks to the cooperation and friendly nature of the director, I never felt discomfort at any point during the shoot. I hope this film will help me a lot in my career." Heroine Richa Sony said: "I could speak Telugu, but I tried my level best to bring Teluguness in my character."
Dharmavarapu Subramanyam, Benerjee, Ali, MS Narayana, Rao Ramesh, Sudha, Surya, Gundu Sudharshan and others are among the cast. Lyrics are by Peddada Murthy, Bhaskara Batla and Kandikonda. Satish is the fight master. Story is by Sudhakar Bommakanti.